No One Likes a Nationalizer
04/27/2012 9:45 am EST
Focus: GLOBAL
Re-nationalizing strategic commodities has never fared well in the marketplace. Argentina's recent move with its state oil company is no exception, and it has broad implications through Europe and Asia, writes Jim Trippon of China Stock Digest.
Talk about your investing buzzkill. When Argentina announced that it would be nationalizing its oil producer YPF (YPF), the stock, which had traded at $41.14 a share on January 24, skidded to $13.12 on April 18.
Investors are bummed out, perturbed, unhappy—pick any word you want, the investment community is extremely negative toward the government of Argentina's move.
One affected party is China. One of China's major oil companies, Sinopec, or China Chemical & Petroleum Corp. (SNP), had been in line to buy a large stake in YPF, so that deal was put in instant jeopardy and appears dead.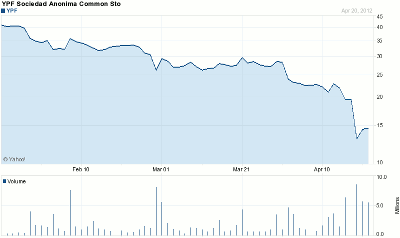 Click to Enlarge
Another affected, or rather disaffected, party, is Spain's Respol (MCE: REP), which owns the 57% stake in YPF that Sinopec had a nonbinding agreement to purchase for a reported $15 billion. The potential for the large blocks of oil that YPF holds that can and need to be developed were within the eyesight of Sinopec, development which Sinopec maintains it could accelerate.
When the speculation of a state takeover, which had been rampant for months, was confirmed April 16 with the announcement by Argentina's President, Cristina Fernandez de Kirchner, the stock plunged dramatically.
The Buyer and the Seller
Sinopec, like the other major oil companies in China, has been on the prowl for overseas assets. China has well known energy needs, and its hungry demand is going to do nothing but continue to grow, the current mild economic slowdown notwithstanding.
Although the refining segment of the Chinese oil business has been a drag, due in part to the Chinese government holding down fuel prices versus the input prices of crude, Sinopec still eked out a profit increase for the year in 2011.
The company has a vigorous exploration and production segment, which made new discoveries in existing fields. Sinopec made new finds in several areas of China, including eastern China, with newfound deposits also found in the western Sichuan Depression.
As much as this exploration and production will help feed domestic demand in China, China still needs more oil, so the push for overseas assets is a strategic initiative not just of Sinopec, but of policy driven by Beijing.
YPF, with a nearly $6 billion market cap, now sees its ADRs trade at less than a 5 P/E due to the hammering of the stock price, although it had robust earnings and paid a dividend, with annual revenue of nearly $13 million and net income of more than $1 billion.
Although many investors would think that the company's investment data has been rendered irrelevant now that Argentina's government will be taking over, Argentina insists that won't be the case, except for the dividend, which will be eliminated. Argentina's government insists that the shareholders other than the government will benefit from the new arrangement.
To say this is met with skepticism in the world investment community is a vast understatement. Reaction to Argentina's grab, which bordered on outrage and anger, has seen the investment community cool at best to shareholder prospects for a new government-owned YPF. Most analysts and brokers would regard the stock as an extremely short-term spec play or trade, if not a short.
Argentina's center-left government has been under pressure to produce more oil domestically and to deliver power to the bulk of its populace at lower costs. Argentina's costs for imported energy last year was nearly $10 billion, double its costs from the year before.
While the government will gain a 51% stake in YPF from Respol, slashing the Spanish company's holdings to 6%, the Eskenazi family of Argentina will still be allowed to continue to hold its roughly 25% stake. Most other investors, including those in the US, have already gotten out, if the stampede to the exits for YPF ADRs on the NYSE is any indication.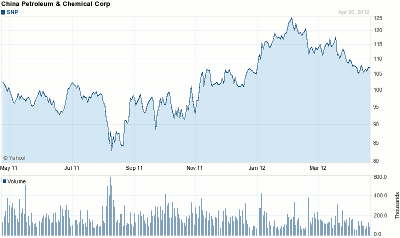 Click to Enlarge
All it looks like is that Sinopec is going to miss out on adding a large chunk of attractive assets for its portfolio. Although there is no immediate prospect for an equivalent-sized deal on the horizon, the Chinese oil major isn't losing out in the same way that, say, Respol or institutional and individual shareholders will. Sinopec will be able to move on, freely and unencumbered by a potential deal hamstrung and overridden by politics.
The irony that somebody is nationalizing oil in a China deal, and that the Chinese company is the capitalist suitor left at the altar, shouldn't be lost on the global investing community.
Subscribe to China Stock Digest here…
Related Reading: