Is China's Real Estate Boom in for a Bust?
12/13/2011 10:15 am EST
Focus: GLOBAL
Much has been written about China's property sector, with the loudest voices of China bears calling it a bubble that will collapse not only the industry, but the country's entire economy, observes James Trippon of China Stock Digest.
The severest of critics dismiss any arguments that say the property problem can be remedied, as they usually insist that any data or information coming out of China is skewed at best, untruthful at worst. But what's lacking, despite a lot of heat or superficial commentary, is any real context for understanding the problem and the possibility of solution.
Few if any are sanguine about China's property sector, including its own officials. Beijing has made no secret of what it wants to do and what it's trying to do, which is to cool off a too-hot market.
A Xinhua News Agency piece in November pointed out that apartment prices in Beijing had fallen 5.1% year-over-year for the first ten months of 2011, including October data. This is after the government's move in April, which restricted residents in more than 40 major cities from buying second and third homes.
This was an attempt to squeeze out the speculators, and the report noted that almost all of the recent transactions featured families who were first-time buyers. There has been some economic pain, though, in the process.
Nearly 1,000 real-estate agency offices have been closed in Beijing due to the contracting market. A local real estate official, Chen Zhi, was quoted in a Xinhua, the official Chinese news agency, that "the consensus is the policy tightening will continue and prices will keep falling."
The global financial crisis of 2008 propelled the Chinese government to inject money into its economy to stave off the kind of deep recession that the US and the rest of the Western developed economies experienced. Banks injected money into the housing market, making credit easier for buyers, so the property market which had been robust since China's 1998 housing reform continued to roll along briskly.
Eventually, though, when the Chinese economy ramped up further, the housing market attracted widespread speculation as well as higher prices. One estimate maintained that housing values in many cities doubled between 2004 and 2009. The recent tighter policies have been an attempt to rein this in.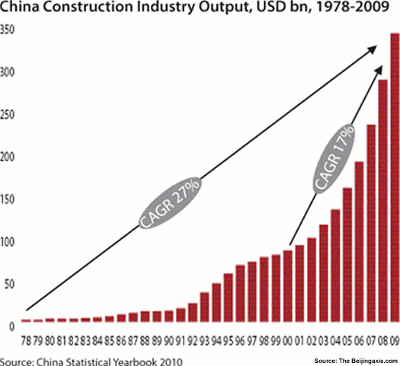 Click to Enlarge
Xinhua noted a more recent report in December by the Beijing Municipal of Housing and Urban-Rural Development indicating that the government's policy shows signs of working. The average price of resold apartments in Beijing has been droppping, with the price level now back to that of late 2010. Sales volume has fallen by roughly 50% in the last year.
Additional policies of higher down payments and the inclusion of a property tax, along with limiting the number of homes buyers can own, have been employed. The predictions are that housing prices can still fall as much as another 10%.
China recently lowered its bank reserve requirement ratio for large banks by 50 basis points, at roughly the same time the Western nations loosened liquidity for European banks in the throes of the Eurozone debt crisis. China's inflation fell to 5.5% year-over-year recently, and its GDP growth rate has fallen to 9.1%, with most predictions that GDP growth will fall into the 8% range for 2012.
In the face of this, China has very carefully begun a series of overall measures of monetary easing. Meanwhile, it is still pursuing its tightening policy on the property front. It doesn't seem likely that it will relax this policy in the housing sector. So China is in a difficult position and may be faced with a quandary of trying to pursue these seemingly opposing policies, trying to keep growth going yet with slower inflation, but also slowing what has been the red hot property market.
A Reuters piece on the Inner Mongolian city of Kangbashi, which is a new city expected to be inhabited by a million people, points out the difficulty (if not the dilemma) of the Chinese government. Much of the Ordos district, where the heart of the project lies, stands empty, with construction halted.
Ordos has become synonymous with the bubble cited by critics. The nearby established city of Dongsheng in this coal-mining district has also felt the brunt of falling prices and abandoned investment. The 20% to 30% price decline in Ordos, if it spread nationally, could spur a crisis which could spread to the banks.
Although Chinese officials admit that's a possibility, they consider it remote, and are working to avert that outcome. A Chinese developer, Jiao Qing, said, "China's severe tightening measures have already reined in property speculation."
The Chinese government is confident, or at least hopeful, it will avoid a larger real-estate crisis.
Subscribe to China Stock Digest here…
Related Reading: