3 Auto-Parts Stocks Warming Up
11/23/2011 10:45 am EST
Focus: STOCKS
In a weak market, about 75% of stocks generally follow the overall direction of the indices. There are some stocks showing sound fundamentals and technicals that are taking a breather now, along with other NYSE and Nasdaq names. MoneyShow contributor Kate Stalter looks at three auto-parts retailers that may be setting up for further price gains.
One retail sub-sector has been a consistent winner in recent years: auto parts. Do-it-yourselfers have resorted to repairing their existing set of wheels or "new to you" used cars, rather than going into further debt for a brand new model.
The beneficiaries of that trend have been companies such as AutoZone (AZO), Advance Auto Parts (AAP), and O'Reilly Automotive (ORLY).
Of that group, AutoZone is the largest company, with a market cap north of $12 billion. It trades 393,000 shares a day, not the greatest liquidity.
Nonetheless, as an S&P 500 component, it trades in fairly stable fashion, as funds indexed to the benchmark index hold their shares, rather than running for the exits or loading up on more.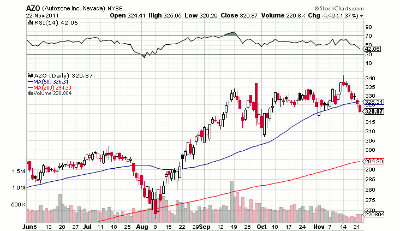 Click to Enlarge
The stock has advanced more than 17% year-to-date, as of mid-session Tuesday. It's slumped along with the market in recent sessions, but downside trading volume has been muted.
Sales growth has slowed in the past three quarters, but analysts expect earnings to continue increasing at double-digit rates, with growth of 16% and 14% in the next two years.
The company reports its fiscal first quarter on December 6, with Wall Street eyeing income of $4.45 per share, a gain of 18% over the year-ago quarter. Sales are pegged at $1.89 billion, which would be an increase of 6%, continuing the pattern of sales growth deceleration.
However, over the longer haul, analysts see solid business for AutoZone, praising its operational efficiency. Operating cash flow has been increasing since 2005. That's often a fundamental indicator of good potential for share price growth.
|pagebreak|
Rival O'Reilly is also a benchmark index component. Whereas AutoZone has fallen below its 50-day line, O'Reilly is holding almost 5% above that key indicator. Shares are up 25% year-to-date.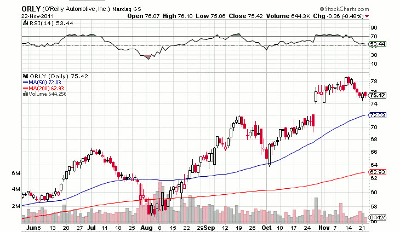 Click to Enlarge
The stock rallied to an all-time high this month, but twice hit resistance at $78.99 before pulling back. It's receded along with the broader market in recent sessions.
Despite strong price performance, O'Reilly has also seen its sales growth slow recently. Revenue was nearly $1.54 billion in the most recent quarter, up 8% from the year-earlier quarter. However, that's down from double-digit growth rates in late 2010.
O'Reilly has grown through expansion recently, and now operates more than 3,700 stores in 38 states.
Like AutoZone, it's a mid-cap, with a market value of nearly $9.7 billion. It moves around 1.2 million shares per day, and has a beta of 0.53, indicating less volatility than the broader market.
Even after the recent pullback, the stock is still up almost 5% from its most recent technical entry point, at $72. The current price consolidation could offer another buy point, once it begins approaching that $78.99 level again. Of course, the next time it rallies toward that price, you'd like to see it overcome resistance. General market weakness could keep a lid on that action, however.
Another auto-parts retailer that's notched solid price gains amid market turmoil is Advance Auto Parts. This is a smaller company than either O'Reilly or AutoZone. The company's market cap is around $4.8 billion, and it trades about 878,000 shares a day, on average.
Here, earnings growth has accelerated in the past two quarters, from a rate of 13% earlier this year to 37% most recently. Analysts expect 2011 to wrap up with earnings of $4.97 per share, a gain of 26% over last year. Year-over-year income has grown every year since 2005.
The stock exhibits wider price swings than its benchmark-index peers, but it's forming a potentially bullish price consolidation. Advance Auto shares rallied to an all-time high of $72.32 in May, then pulled back along with the broader market.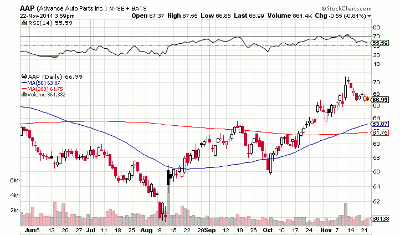 Click to Enlarge
It fell 32% to a low of $49.50 on August 10. That's not a terribly unusual rate of correction for a smaller growth stock during a market downturn. Such stocks often sport larger corrections than the general market.
It may currently be forming a handle to an earlier cup formation. Watch for the stock to rally above $71, ideally in heavy volume.
Turnover has been dropping as the price has retreated, a good sign. This week, volume is almost certain to come in below average, due to the holiday market closure Thursday.
I don't consider AutoZone, O'Reilly, or Advance Auto to be buy candidates at this moment. With the broader market declining on European worries, even US retailers like these are getting dragged down. That's not uncommon action in a broad-market pullback.
As these stocks consolidate, they may be setting up for fresh price gains once market sentiment improves (whenever that occurs). So these are worth keeping an eye on to see how they behave, with regard to price and volume action relative to the major indices.
If they go on to approach previous price highs in solid volume, these could offer technical entry points.
Related Reading: