4 Growth Stocks Ready to Pop in 2012
12/29/2011 11:07 am EST
Focus: STOCKS
Rather than rely on opinions for what looks promising in the new year, MoneyShow.com contributor Kate Stalter uses tried-and-true fundamental and technicals to gauge strength in individual stocks. Here are four names that rose to the top of her year-end screens.
As 2011 winds down, there are a number of growth stocks well positioned for gains in the new year. Higher beta names, as well as smaller stocks, have fallen out of favor recently, and the Nasdaq Composite and Russell 2000 are trailing the benchmark S&P 500.
It's not unusual for growth stocks to underperform the broader market during a downturn—but they also outperform in a market rally. But individual stocks that outpace the indices in times of weakness are often poised for further gains.
As an investor, I avoid year-ahead predictions—either my own or anyone else's—all of which could easily go wrong. Instead, I rely on current charts and fundamentals. The stocks here show promise, and are among the growth names I'll be tracking as we head into 2012.
One growth name that's been a consistent performer lately is Questcor Pharmaceutical (QCOR), a California-based maker of drugs to treat nervous-system disorders. The stock is ending the year with several weeks in a row of tight trade above its ten-week line. That's a good sign that institutional investors are holding shares, confident about share price valuation.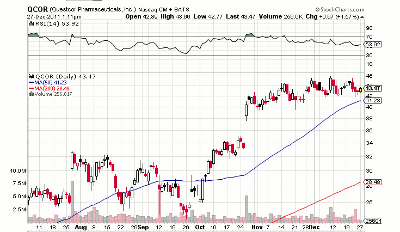 Click to Enlarge
The stock is up an incredible 190% this year, and the pace of earnings and revenue growth accelerated in recent quarters.
Questcor is expected to report its fourth quarter in the latter part of January. Analysts expect the company to wrap up the year with earnings of $1.19 per share, almost double last year's profit. In 2012, the company is expected to show a profit gain of 62%, to $1.92 per share.
Another 2011 winner that could be poised for more gains is HealthStream (HSTM), which offers online training for health-care sector business customers. The small cap has gained more than 130% year-to-date, fueled by a pickup in earnings growth, following a dip in 2010.
Last week, the stock rallied to a new peak, surpassing the high-water mark of $18.30, reached in November, just prior to a ten-week pullback.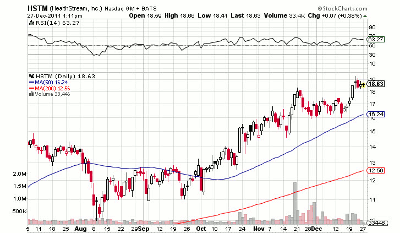 Click to Enlarge
HealthStream is another company due to report its fourth-quarter and year-end results in the second half of next month. It's seen earning 27 cents a share for the year, up 50% from 2010. Analysts estimate another 15% increase in 2012.
There's one caveat about this chart: The stock has raced higher since the market rally began in 2009, without ever pulling back to undercut prior lows. It wouldn't be out of the question to see another correction in the coming months, before the stock resumes its rally.
Another stock that's brought out the firepower this year is gun maker Sturm Ruger (RGR), banging out a gain of 124% for 2011. However, this is another case where the stock really hasn't taken enough of a breather to flush out investors lacking in conviction. A pullback to levels below $27.12, its October trough, could be constructive.

Click to Enlarge
The stock is positioned for more earnings growth in 2012, but at a lower pace than this year's expected rate of 32%. The company reports 2011's fourth quarter in February.
With fewer than 200,000 shares traded a day, on average, Sturm Ruger is on the volatile side, with a beta of 1.11. The stock is currently holding above its most recent buy point, at $33.89.
Given the strength of the chart in recent months, I'm cautious at this juncture, but if the stock rallies in heavy volume above $34.95, it could offer another entry opportunity in the coming weeks.
Liquidity Services (LQDT) is an online auctioneer of wholesale and surplus goods. Analysts expect profit growth to resume in 2012 following a slowdown this year—although quarterly results have been far better than average so far in 2011, with EPS gains of 79% or higher.
The stock is up 165% year-to-date. Like Sturm Ruger, it's holding between its ten-week average and its previous high. Relatively recent IPOs—companies that went public in the past ten to 15 years—often show excellent price gains, and this one fits the bill.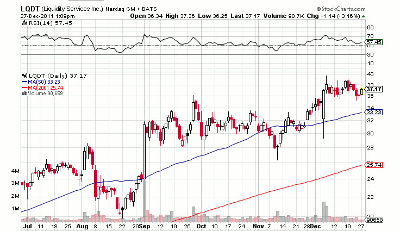 Click to Enlarge
It had a fairly steep and sudden correction over the summer, when the general market went into a freefall, but rallied back quickly in early September. Sometimes quick rebounds like that mean not enough weak holders got out—but the stock has notched gains for the past four months.
Trade here, too, is somewhat volatile. This is another smaller company, with a market cap of around $1 billion and 314,000 shares changing hands per day.
It's currently consolidating price gains in lower-than-average volume, meaning investors are not selling off en masse. Watch to see if it retains support above its ten-week line, and if it can surpass its previous high of $39.76, reached earlier this month.
At the time of publication, Kate Stalter did not own positions in any of the stocks mentioned in this column.