5 Medical Stocks with Healthy Charts
02/09/2012 2:30 pm EST
Focus: STOCKS
Within the health-care sector are some companies with a good mix of technical and fundamental promise. However, some are thinly traded, meaning some caution is necessary…especially around earnings season, writes MoneyShow.com contributor Kate Stalter.
The medical sector is home to some companies that stand out from the pack in the current market.
Traders who track growth names have likely been following the price run-up in Alexion Pharmaceuticals (ALXN), which rallied to an all-time intraday high Friday.
The maker of treatments for rare diseases was upgraded to Conviction Buy at Goldman Sachs, but even without the analysts' seal of approval, the stock had been on a tear, gaining 77% in 2011, and tacking on another 7.4% in January.

Click to Enlarge
Despite the technical strength, there are some warning signals on Alexion's chart. It has not consolidated enough to undercut a previous base since 2008, meaning that a correction in the stock, as investors take profits, would not be surprising at this juncture. Even if it continues rallying, it's currently out of buy range, and would need another pullback to offer a new entry point.
Alexion reports earnings on Thursday before the open, so watch for price action either up or down as a result of that news.
Alexion has grown into a large cap, but there are a number of lesser-known, smaller medical stocks also popping onto my growth screens.
One that I've watched for a few months is Anika Therapeutics (ANIK), a biotech that makes bone and cartilage treatments. This is a lower-priced, more speculative stock. It's currently trading at around $11; it has a market cap of only $136 million and it moves only 41,000 shares per day.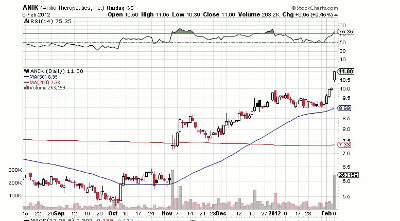 Click to Enlarge
The stock had been climbing out of a steep consolidation since early October. It notched some bullish action between December and last week, when it paused to take a breather along its ten-week average. On Monday, it gapped nearly 9% higher in monster volume.
The company participates in a Cannacord investor conference this week. Such events often spur further price gains, as analysts and fund managers learn of positive company developments.
Another small medical company that's showing good moving average support is Synergistics USA (SURG), which makes microsurgical gear. This is another very small company, whose stock should also be considered speculative. Synergistics' market cap is just $173 million, and it moves only 113,000 shares a day.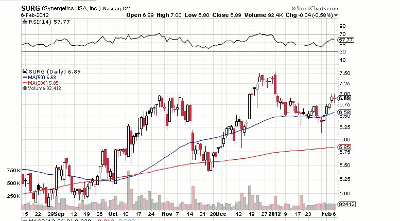 Click to Enlarge
Like Alexion, this is a stock that's already notched a strong price run-up, and could be ready for a correction that undercuts prior lows. In recent weeks, it's been finding support at its ten-week line, and volume has mostly been below average during the pullback, a good sign.
It could offer a potential buy point as it clears resistance above $7.50. But investors should be aware that it's showing technical signs that a pullback could be near.
Fundamentally, Synergistics has good potential. Wall Street is eyeing profit growth of 35% this year and 29% in 2013. Stocks often retreat even with good income and revenue expectations, so although the technical have held up, there's still reason to use caution.
A small-cap medical name that's been rallying is Cantel Medical (CMN), maker of infection-control gear for health-care industry customers. The stock pulled back Monday along with the broader market, but it ran up to an all-time high last week.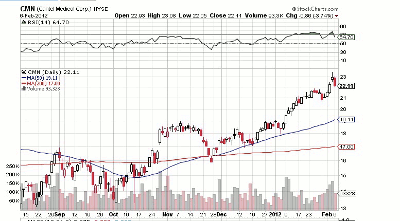 Click to Enlarge
Last summer, the stock formed a bottoming base that fell below the previous consolidation. That kind of price action tends to flush out holders lacking in conviction, clearing a path for value investors to scoop up shares at a bargain.
The stock has rallied 72% from its August low. It could still offer constructive buy points in the coming weeks and months, because it has not rallied too far from that low point.
The company does not report earnings until next month, so that particular catalyst for possible gains or losses is a few weeks away. I'm eyeing the current pullback to see whether it can remain above its ten-week average, which would be a bullish technical signal.
Finally, Atrion (ATRI), which makes specialized medical gear for cardiology and ophthalmology markets, among others, reports its fourth quarter on February 17. The stock has rallied ahead of earnings, climbing to all-time highs.
This stock carries an extra level of risk, because fewer than 3,000 shares are traded a day, on average. The company has a market cap of around $520 million.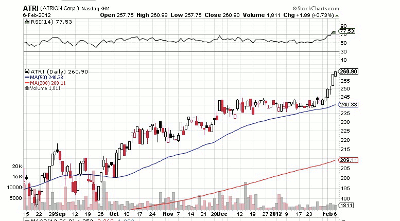 Click to Enlarge
While Atrion has shown some good technical action recently, and its fundamental record has been strong, it's a stock I would handle with extreme caution. The thin trade means it could become unusually volatile, selling off hard if one large holder decides to exit.
This is another name that hasn't paused for a true sell-off. In addition, its rallies between consolidations have been short. Both those factors mean a pullback could be in the cards.
As always with small, thinly traded stocks, be ready to take profits or cut losses quickly. Hope and greed are the enemies of successful investors and traders, and small companies like Atrion offer a proving ground for trading rules.
Related Reading: