The Week Ahead: Stuff Those Stockings with Stocks
Focus: STRATEGIES
A fascinating comparison of today's market with the 1970s may mean stocks could be the best Christmas gift this year. Also, MoneyShow's Tom Aspray navigates the fiscal cliff to find his best picks for what could be choppy markets through the holiday season.
By the middle of Friday's session, stocks were still marginally higher for the week, though Thursday's drop has taken the major averages below their best levels.
The news of the Fed's $85 billion plan to keep rates low until unemployment drops spurred a quick 80-point rally in the Dow, but it only ended the day a bit lower.
The Fed hopes that an extended period of low rates will make other investments, like stocks, more attractive. It is my view that it will ultimately be bullish for stocks, but it will likely take a resolution of the fiscal cliff and debt ceiling to encourage companies to start spending again.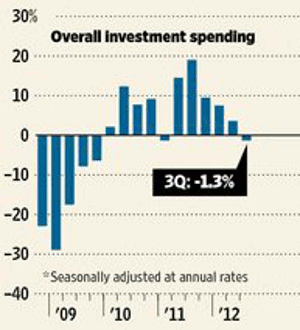 Click to Enlarge
The chart above shows that overall investment spending was negative in the third quarter for the first time since the first quarter of 2011. In 2011, spending increased sharply for the rest of the year, and a similar turnaround in 2013 should give the corporate earnings a nice boost.
Of course, it may take more than that to encourage the individual investor to buy stocks again.
!--start-->
---