The Week Ahead: Will Overseas Markets Lead the Way?
Focus: STRATEGIES
Most investors were expecting a correction after the enormous surge in 2013, but evidence from Europe indicates that the downturn could be short and may have already happened with this week's blip. Still, as MoneyShow's Tom Aspray writes, this is not the time for aggressive buying, although several stocks he recommends below have fallen to acceptable buy levels.
The US stock market had a sharp two-day slide last week, and most of the major averages made their lows Thursday afternoon before turning higher into the close.
The impressive rally on Friday pushed the Dow Industrials into positive territory for the week, while the other averages finished a bit lower. Friday's close may indicate that the correction is already over.
A correction has been expected for several weeks, as up through February 15, the S&P 500 had closed higher for seven consecutive weeks. While US analysts were fixated on whether the US market would correct or not, European markets were already correcting.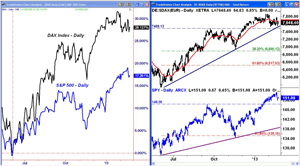 Click to Enlarge
The German Dax Index has been leading the S&P 500 since the June 2012 lows, up 27.8% since then against a 17.2% gain in the S&P 500. Its better relative strength was evident last November, as I discussed in Should You Invest Overseas?
The correction in the Dax from the September highs was much less severe, as it held above the 38.2% Fibonacci retracement support from the June lows.
!--start-->
---