Cannabis: A Recession Proof Global Growth Industry
07/25/2016 12:24 pm EST
Focus: CANNABIS INVESTMENTS
While many economists and analysts are predicting a recession in the next two years, Michael Berger, a leading expert of the cannabis sector and Associate Editor of MoneyShow.com continues to view the cannabis sector as recession proof. Here, he provides his reasoning as well as his top picks in the nascent but burgeoning industry.
The state of the global economy has led to a number of leading economists and well-known investors to predict a recession within the next 12 to 18 months.
As market volatility continues to increase, investors and money managers will continue to exit the stock market as they look for new investment opportunities that help preserve wealth.
Although volatility has increased, we continue to view one sector as recession proof and believe that this sector will be the best place to invest if there is a recession. The cannabis sector is the fastest growing industry in the world.
Cannabis Will Create the Most Millionaires
Investors are rarely presented with the opportunity to invest in an industry poised to see incremental revenue growth for decades to come. The last time investors had this opportunity was during the tech boom, which created countless millionaires.
Over the last two years, the market has seen an increased amount of capital enter the cannabis industry. This amount of capital is not only larger but smarter too; these investors and firms are long-term holders who see the bigger picture.
We continue to view the cannabis industry as recession proof as it does not receive the same benefits as other industries. The cannabis industry is not even in the first inning of a multi-decade growth cycle and investors have an unprecedented opportunity at their fingertips.
How is it Recession Proof
In every recession, consumers have continued to drink beer, eat chocolate, and smoke cigarettes. We do not expect this to change during the next recession. The only change will be that consumers will have an option to consume marijuana.
Cannabis is too profitable and the United States is in too much debt to ever rollback legalization. The industry continues to make strides across the globe and companies have been able to prove that cannabis has medical benefits.
During the last two years, the market has continued to see more states legalize medical cannabis, while with positive clinical data and support from experts such as Sanjay Gupta, authorities such as the U.S. Surgeon General Vivek Murthy and organizations like the National Institute on Drug Abuse and the National Institute of Health.
Re-Scheduling Simply Makes Sense
Although the opinions of the Surgeon General, the National Institute on Drug Abuse, and the National Institute of Health were not enough to remove cannabis from its Schedule I classification, recent clinical evidence by companies like GW Pharmaceutical (GWPH) and Insys Therapeutics (INSY) is hard to ignore.
We expect to see significant growth in the cannabis industry over the next year, and two sectors poised to benefit the most from this are the Biotech and Canadian Licensed Producer sub-sectors.
Many cannabis companies are in their developmental stage and are thus naturally speculative in nature. With big risk comes big reward, however, investors must be selective and do their due diligence before investing.
Follow the Money
A majority of the money raised in the cannabis industry has been in the Biotech and Canadian Licensed Producer sub-sectors.
The reason why we are so favorable on these two sub-sectors is because: 1) They are comprised of more stable, revenue producing companies, 2) Its constituents have a stronger underlying financial structure on average, and 3) The shares trade on a regulated exchange.
The Canadian medical cannabis industry is also growing at an impressive 10% per month and it now has more than 75,000 patients. Canada has announced plans to legalize recreational cannabis in spring 2017.
The biotech cannabis stocks have found success with the cannabis plant and each company focused on this industry is leading first-of-its-kind initiatives. This fact makes the companies attractive acquisition targets for large cap biotech companies like Biogen Inc. (BIIB) or Gilead Sciences Inc. (GILD).

Top Picks
Currently, there are more than 300 publicly traded cannabis companies and we expect less than 10% to still be in business in three years. The stocks we are favorable on and would buy in the Biotech and Canadian Licensed Producer sub-sectors include:
Biotech: GW Pharmaceutical (GWPH), Insys Therapeutics (INSY), Zynerba Pharmaceutical (ZYNE), and Cara Therapeutics (CARA)
Learn about this incredible industry by registering to attend The Cannabis Investing Event The MoneyShow San Francisco!
By clicking submit, you agree to our privacy policy & terms of service.
---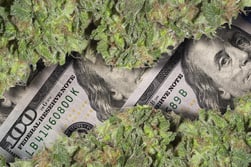 Supreme Cannabis Making Waves
03/17/2019 11:00 am EST
In February, the Supreme Cannabis Company (TSX: FIRE) made several announcements that highlighted it...