The Red Dragon Won't Stay Chained
11/02/2012 4:00 am EST
Focus: GLOBAL
A rapid rise in economic indicators means the bulls are out in force on China, and industrial commodities have felt the surge as well, writes MoneyShow's Jim Jubak, also of Jubak's Picks.
Yet more data emerged Thursday signaling that China hit a growth bottom in September.
Today, it's the official Purchasing Managers Index from the National Bureau of Statistics showing an expanding economy, with a reading of 50.2 in October, up from 49.8 in September. In this survey, anything above 50 indicates an expanding economy.
China's economy expanded at a 7.4% annual rate in the third quarter, the slowest rate in three years, but month-by-month data showed September picking up strength after a weak August. This week, Bank of America raised its estimate for China's fourth-quarter GDP growth to 7.8% from 7.5%, and Nomura Holdings projected a rebound to 8.4%.
It's always good to put on your cynic hat when looking at China's economic data. And with the National Party Congress set to install new leadership next week, skepticism is certainly in order.
But other Asian economies with close links to China's economy are also reporting numbers that show improving growth. The Purchasing Managers Index for Taiwan, for example, rose to its highest level since June. Korea's PMI, which had dipped in September, climbed in October.
In the United States, the Institute for Supply Management's Purchasing Managers Index for the manufacturing sector climbed to 51.7 in October, marking a second consecutive monthly increase. The index had tumbled each month from June through August.
Not surprisingly, the Shanghai Composite Index rose in overnight trading by 1.72%. Hong Kong's Hang Seng Index climbed 0.83%.
That economic and stock market news out of China has spilled over into trading in commodities sectors such as coal, copper, and iron ore. (Faster growth in China means higher demand for commodities.)
Coal miner Peabody Energy (BTU) was up 5% as of 2:40 p.m. New York time on Thursday. Freeport McMoRan Copper & Gold (FCX) was up 3.4%. Brazilian iron-ore miner Vale (VALE) was up 2.6%. (Freeport McMoRan is a member of my Jubak's Picks portfolio.)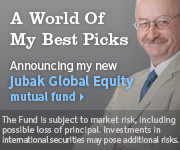 Full disclosure: I don't own shares of any of the companies mentioned in this post in my personal portfolio. The mutual fund I manage, Jubak Global Equity Fund, may or may not now own positions in any stock mentioned in this post. The fund did own shares of Freeport McMoRan as of the end of June. For a full list of the stocks in the fund as of the end of June, see the fund's portfolio here.