A Great Example of an Option Straddle Trade
08/26/2010 12:01 am EST
Focus: OPTIONS
Shares of technology bellwether Cisco Systems Inc. (CSCO) have slipped this week, placing the stock just above $21 per share. CSCO has not closed a week below this level since July 2009, with the $21 region providing a key floor for the shares on July 1 and August 12. On both occasions, the stock rallied back sharply after testing support in the region.
Naturally, options traders view this pullback to support as an opportunity to profit on a potential CSCO bounce. At about 3:05 pm on the Chicago Board Options Exchange (CBOE), one trader bought 17,884 CSCO September 22 calls for the ask price of $0.37, or $37 per contract. Break even for this position lies at $22.37 per share.
However, not everyone was as confident. In fact, September 21 straddles have been extremely popular on CSCO today, with no less than five such trades crossing the tape since about 1:00 pm ET. The largest such straddle involved 4,000 September 21 calls, which traded for the ask price of $0.82, and 4,000 September 21 puts, which traded at the ask price of $0.55.
The total outlay for this position would have been $1.37, or $137 per contract. In order to make his money back, the trader would need for CSCO to either rally to $22.37 per share, or fall to $19.63 per share.
The reasoning here is simple. Bullish CSCO traders are betting on a repeat performance of previous tests of support in the $21 region, while the more cautious traders are hedging their bets by entering a straddle, just in case we see continued volatility on Wall Street.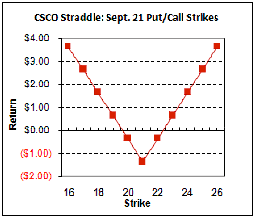 Figure 2
By Joseph Hargett, contributor, Schaeffer's Trading Floor Blog