Join Mike Turner LIVE at The MoneyShow Las Vegas!
Join Mike Turner LIVE at The MoneyShow Las Vegas!
It's Not the Right Time to Add 'Bling'
04/24/2013 9:45 am EST
Focus: COMMODITIES
There's a good gold entry point out there somewhere, and Mike Turner of CycleProphet is looking for it, but he hasn't seen it yet.
Gold, silver, and oil are moving lower (in some cases, such as gold, a lot lower).
China reported slower growth than expected. Hard to figure how a miss of one-tenth of a point on data that no one believes is trustworthy anyway would have such a huge push down on commodity prices.
There are some who believe that part of the drop in the price of gold is tied to a potential sell-off of gold in some EU countries (Cyprus, Italy, Portugal, etc.) to satisfy debt overhangs. These, and other not-so-obvious reasons, may be some of the reasons why gold selling has moved into such a panic-driven fever pitch.
There are some rumblings that interest rates have actually settled into a non-Fed-induced level that is as much market-driven as Fed-driven. If that is true, then the Fed's actions "could" be construed to have created a deflationary atmosphere instead of an inflationary atmosphere.
Inflation is certainly bad—but far, far better than deflation. Could gold be reacting to a potential deflationary cycle? In this world, anything is possible.
As for gold...I have been looking for an entry point for gold, silver, and oil. obviously, we are closer to that point now than any time we've seen in the recent past. Having said that, I am not ready to get into any of the three yet. I plan to wait until I see the forecasts indicating a bottom in front of us before I venture into these somewhat unchartered waters.
If you are a trader more than an investor, and you have been growing your PM portfolio to where it held a disproportionate percentage of your tradable net worth, then the crash in PMs is most likely more than a bit concerning. The question: Is the current price of gold and silver a buying or selling opportunity?
I am a rules-based trader. Gold and silver would not occupy more than 10% of my investable net worth. And regardless of my long-term thoughts about the sustainability of our national debt, I would always have a stop limit set for any and all of my tradable holdings.
I can't tell you to buy or sell gold or silver, but I can tell you that I would have been out of gold more than seven months ago when my Equity Analyzer said to exit gold (see GLD chart below).
SPDR Gold Shares (GLD) seeks to replicate the performance—net of expenses—of the price of gold bullion. The trust holds gold, and is expected to issue baskets in exchange for deposits of gold, and to distribute gold in connection with redemption of baskets.
The gold held by the trust will only be sold on an as-needed basis to pay trust expenses, in the event the trust terminates and liquidates its assets, or as otherwise required by law or regulation.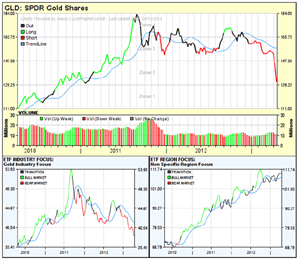 Click to Enlarge
Indeed, my EA chart issued a short sell recommendation about four months ago.

Could gold go lower? Absolutely. Would I short gold here? No, because my Equity Forecast for gold indicates a possible bottom will occur within the next month; not enough time to generate enough return for the risk.
Subscribe to CycleProphet here...
Related Articles:
Metals Shine for Wary Investors