Stocks in Play: The Facebook of China
04/16/2012 1:00 pm EST
Focus: STOCKS
Active traders and investors with a stomach for volatility can look to Renren Inc. (RENN), the Chinese company behind the largest social networking platform in the emerging nation, writes Joe Donohue.
Renren Inc. (RENN) is more commonly known as "The Facebook of China." The stock is risky, so stay away if you are risk averse.
Facebook is going public soon, so a lot of these China Internet plays have been put in play. Right now, the stock has momentum, but that can change on a dime...as we all know.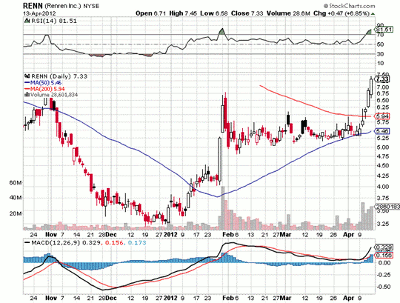 Click to Enlarge
In the News
On Wednesday, RENN announced reports that it is partnering with Intel (INTC) and Feitian, a leading innovator of security technologies and applications.
Background Information
RENN operates a social networking Internet platform in China. Its platform enables users to connect and communicate with each other; share information and user-generated content; play online games; listen to music; and shop for deals.
The company's platform includes Renren.com, a social commerce site; Nuomi.com, a social Q&A Web site focused on the auto industry; Game.renren.com, an online games center; and Jingwei.com, a professional and business SNS Web site.
The Chart
The stock broke above its downtrend line on the daily chart on Tuesday. It also broke above its 200-day simple moving average (SMA) on the daily chart. The volume was enormous, which is something you always want to see to validate a clean breakout. The MACD also broke out to the upside.
This stock was trading as high as $24 back in May 2011, but it currently trades near $6.65. The volume has been returning, and it is possible that the shares could tag $10 in a decent tape.
I'm currently long RENN shares.
By Joe Donohue of UpsideTrader.com