Play the Post-Earnings Push on M&T Bank
04/24/2012 9:45 am EST
Focus: OPTIONS
John Kmiecik, contributor to InvestorPlace.com, outlines a post-earnings option trade idea that aims to profit from continued bullish momentum in M&T Bank Corp. (MTB).
Most of us were taught by our parents at a young age to save money in a bank so you will have more of it when you get older. Your parents were right, because even when interest rates are low like they are now, your savings will increase. As adults, many of us have IRAs and 401(k)s that are meant to increase like a savings account over the years.
Unfortunately, over the last decade or so, many of those plans have taken some losses. Here is a trade idea on M&T Bank Corp. (MTB) that might just take you back to your childhood and increase your portfolio's value just like an old savings account.
Here is a recent daily chart: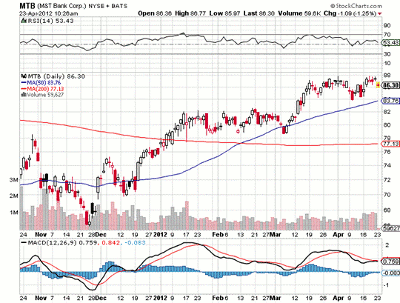 Click to Enlarge
The Trade Idea: Long Call
With the stock trading around $87, buy the July 90-strike calls for a premium of around $2.20 per contract or less. Buying a call is an option strategy that can take advantage of a bullish outlook on a stock. A long call can profit if the stock rises and the call premium increases from the amount that was paid.
The maximum profit is essentially unlimited with a long call because the stock can continue to rise. The maximum loss is 100% of the $2.20 premium if MTB finishes below $90 at July expiration. Breakeven is at $92.20 at expiration.
The bank reported first-quarter earnings this past week and did not disappoint many investors. A couple of the highlights were earnings per share of $1.50 when analysts were predicting $1.48, and mortgage banking revenue increased 24% from last year at this time.
The CFO said "Average loans grew an impressive 10% on an annualized basis as compared with the fourth quarter of 2011." Housing is part of the US economy that is possibly (and slowly) improving, and it looks like MTB may just be taking advantage of this trend.
What might be more impressive is the performance of the stock. While many banks have faltered in the last month, MTB has been able to hold its own and looks to challenge its 52-week high. A bullish sign for the stock would be if it could break and hold the $88 area, which has been resistance in the past.
The next resistance the stock would face would be around $90. If it was able to clear that hurdle, $100 is not out of the question. July options were chosen for this trade idea to give the strategy more time to profit.
By John Kmiecik, contributor, InvestorPlace.com