Hot Retail Sale That Won't Be Advertised
05/23/2012 9:30 am EST
Focus: STOCKS
Low-price leader Walmart (WMT) is showing strong buy signals on the daily, weekly, and monthly charts, writes Greg Harmon of Dragonfly Capital, and a lofty upside target of 16% or more is within reach.
A funny thing happened out of this Walmart (WMT) bribery and corruption scandal. Yes, the stock took a hit, but then the company reported earnings and gapped back higher. Now it is trading at a 52-week high. Well, that is not completely accurate.
It is actually trading at a ten-plus-year high and an all-time high on a dividend-adjusted basis. But it is the last candle of the daily, weekly, and monthly charts that makes the stock so interesting here. Let's take a look: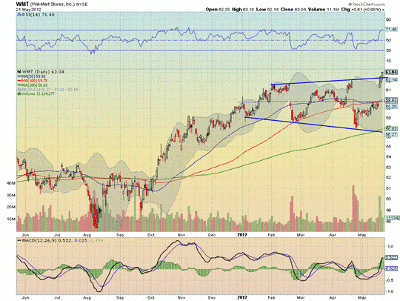 Click to Enlarge
The daily chart above shows the stock breaking above an expanding wedge, or megaphone, that has been in place over the last five months. The Relative Strength Index (RSI) is bullish and just touching in the technically overbought area with a Moving Average Convergence Divergence (MACD) indicator that is positive and growing rapidly.
There is a caution here, as the volume has been falling on this breakout, but the picture is bright with a target on the breakout to $68.
But wait.there's more! The weekly chart shows strength as well. After breaking above a rising channel from July 2009 through to October 2011, the price retested the channel from above five weeks ago and is now moving higher. Also note on this time frame that the volume is actually increasing over the last few weeks (last candle is only one day).
The RSI on the weekly points to more upside, in bullish territory with a current rising trend, and the MACD is about to cross bullishly positive, as it broke above a triple top at $62: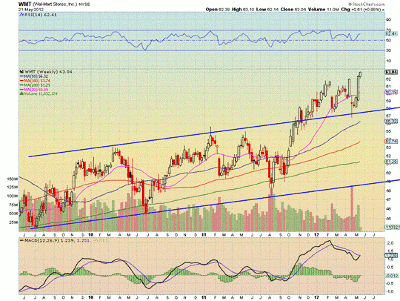 Click to Enlarge
The target for this leg higher remains at $65.40 from the original break of the channel.
NEXT: But Wait...There Is (Still) More!
|pagebreak|
But wait.there is (still) more! The monthly time frame is also strong and screaming "buy":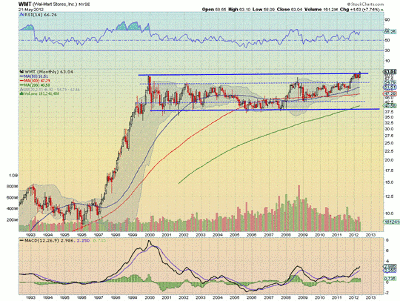 Click to Enlarge
The stock has traded in a range between $38.50 and $61.50 for 13 years. Prior to that, it had a $30 move higher over the previous three years. Now, breaking that channel with support from the technical indicators, it has a measured move higher to $84.50 on this time frame. Not too shabby.
But even removing all time frames and looking at a three-box reversal point-and-figure chart, the upside is big: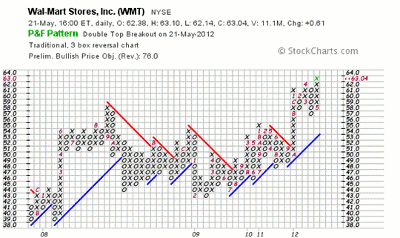 Click to Enlarge
Breaking a double top, the price objective on the point-and-figure chart is $76.
So four views with four different targets of $68, $65.40, $84.50, and $76. Average those and you get a move to $73.25, or 16% higher. Not bad for a stock that also pays a 2.6% dividend.
By Greg Harmon of Dragonfly Capital