Don't Write Off Japan Yet
06/12/2013 9:00 am EST
Focus: STOCKS
Traders could work Japanese equities long and the yen short as a potential bounce play is in motion, writes L.A. Littleon Minyanville.com.
Japanese equities have been hard hit of late and so much of that stems from the turmoil in their bond market.
We have borne witness to temporary halts in trading due to excessive volume and volatility, equipment malfunctions, etc. The real issue is that the massive push to devalue the currency has created huge turmoil in the stock and bond markets and with the central bank's newfound activism; the volatility is unlikely to change anytime soon. Volatility can be good for traders though, for it forces extremes, and as long as you can average into extremes at a measured pace, you can reap the rewards of the volatility.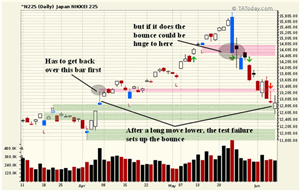 Source: TAToday.comClick to Enlarge

The WisdomTree Japan Hedged Equity ETF (DXJ) Friday pushed into multiple layers of anchored support after a massive sell-off. The push looks to be an exhaustion-type move setting up a likely range trade with a significant bounce potential.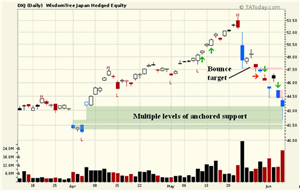 Source: TAToday.comClick to Enlarge

As we know though, so much of what happens here is dependent on the yen, and it just printed a blow-off-type exhaustion move higher, which also sets up a range trade near term. The short sellers were simply blown out of the water in that market as price moved up to test anchored resistance and was repelled while volume swelled hugely. Source: TAToday.comClick to Enlarge

All of this suggests that traders could work Japanese equities long now and the yen short if they so choose as a potential bounce play is in motion and is likely to carry quite a punch on the move. Do realize this is a trading recommendation initially although it has the potential to be the bottom of the corrections in both markets before the resumption of the dominant trend. That we won't know for a while, though.
By LA Little, Contributor, Minyanville.com