5 Stocks on the Bargain Table Now
02/20/2014 9:00 am EST
Focus: STOCKS
Julian Close of MarketIntelligencecenter thinks it's a safe bet that the biggest winners in 2014 will not be those who declare that this bull market is dead every time it pauses for a nap.
What was it that turned the most recent market turndown into a broad cry that the bull market would never again run as exuberantly as it had in the salad days of 2013? That's hard to say, but to me, looking for opportunities to jump out of the market seems like a loser's game. The only reason not to stay invested is if you need the money for something else. The only question is one of allocation, and it may make sense, when things get especially volatile, to make sure you are weighted towards defensive sectors, such as healthcare (XLV) and reliable blue-chip stocks.
That said, when the market is on the bounce, it is the best possible time to turn into a stock picker and move into growth companies or troubled companies on the rebound. Looking at a broad cross-section of the market and applying several valuation screens, as well as considering the impact of various macroeconomic trends, I have identified five prime candidates that stand to make back recent losses and then climb to new highs.
As always, you should do your own research and consider whether a given stock suits your investment needs before investing, but I think it is a safe bet that the biggest winners in 2014 will not be those investors who call this bull dead every time it stops for a little nap.
First Solar (FSLR)
First Solar fell into the doldrums when China attempted to corner the world market in solar panels, but it turned into a great performer last year when the stock rallied thanks to Berkshire Hathaway's (BRK.A) investing heavily in solar-power plants. FSLR stock rode increased interest in solar power up from $25 per share to $64 per share last year, and the reason for the Street's enthusiasm is very clear. First Solar has, with its proprietary cadmium-telluride panels, driven the cost of solar power down to an astonishing 68 cents per watt, (less than one dollar per watt was considered impossible just a few years ago.) First Solar is even using its cutting-edge technology to build a massive, two-gigawatt power plant in China, bringing us full circle.
The recent stock market skid, along with the Street's somewhat fickle interest in solar technology, has brought the share price of FSLR down, and it now trades at less than $52 per share. That price is just plain silly given not only the company's long-term prospects, but its current valuation as well. FSLR has a trailing P/E of 10.72, which seems more fitting for a recession era automobile manufacturer than for the industry leader in solar technology at the dawn of the solar age.
FSLR Daily Chart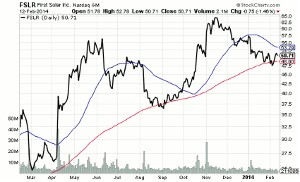 Click to Enlarge
Procter & Gamble (PG)
Once a steady blue chip, shares of PG, the consumer-goods giant have been oddly volatile in recent years due to unsteady earnings growth. Many feel that the company became complacent and allowed to much of the market to be taken away by generic knock-offs when it should have advertised more heavily to reinforce customer brand loyalty. The company has responded by making a stronger effort to get the right products to the right markets at the right times for the right prices. Necessary advertising and research are being offset with slightly higher prices. It's a bit of a gamble, but it seems to be paying off. S&P is calling for Procter and Gamble to earn $4.30 per share in 2014, an 11% improvement over its 2013 EPS.
NEXT PAGE: 3 More Stocks on Sale
|pagebreak|
From its November high of $85.41, PG stock fell to $75.70 before beginning to rally. Today, shares of PG are trading for $77.44, still well below recent highs. Part of the reason PG is getting hit so hard is because of the impression (caused by bad retail earnings) that the economy is not doing so well. The incredibly strong winter numbers we are seeing in construction, however, suggests that this recovery's race is yet to be run.
PG Daily Chart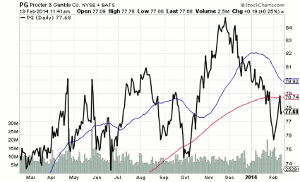 Click to Enlarge
DreamWorks Animation (DWA)
DreamWorks Animation is one of the most successful movie studios of all time, though its earnings are notoriously uneven, due to the consistently high production costs and variable box office success of its films. The company has taken steps to even things out in recent years, however, focusing on television and a licensing deal with Netflix (NFLX). 2014 looks like a fantastic year, as the studio will be releasing a rare hat trick of films, including Peabody & Sherman (March 2014), How to Train Your Dragon 2 (June 2014), and Home (November 2014). In the future, expect to see DreamWorks take a page from Disney's playbook by supporting its intellectual properties with theme parks and even a theme cruise ship.
The early February pullback caused DWA shares to fall to $31.25 per share, down from their 2013 high of $35.23, and still quite a bit lower than their 2009 high of $43.46. The stock is already rallying however, and now trades for just under $34 per share. Catching this one on the bounce makes sense, especially given that rival studio, Disney's Pixar, will not be releasing a film in 2014.
DWA Daily Chart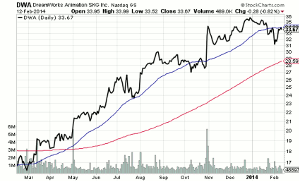 Click to Enlarge
Humana (HUM)
Humana is one of the largest managed-care companies in the world, with total membership of more than 12 million. Analysts currently foresee its revenue rising by 8.7% in 2014, though its profit margin is expected to narrow as it adjusts to the realities of the Affordable Care Act. Insurance is a numbers game, and Humana's numbers look conspicuously good. It recently beat the Street's consensus estimate for its 2013 fourth-quarter earnings per share and beat the revenue estimate as well. This rapid growth strangely put investors off, as it has been suggested that Humana is picking up members that no one else wants. If so, it could be a calculated decision, as current gaps in insurance are likely to be filled in over the coming years, as states find they do themselves more harm than good by failing to comply with the Medicare expansions mandated by the Affordable Care Act.
Shares of Humana briefly topped $105 in early December of 2013, but have since fallen back into the nineties. At just over $96 per share, you can pick up this solid long-term performer at nearly 10% off.
HUM Daily Chart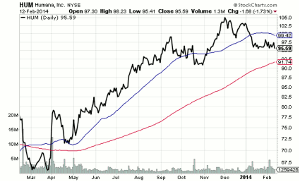 Click to Enlarge
Cree (CREE)
Cree, a maker of nearly eternal low-energy LED light bulbs, is a company trying to change the deeply ingrained consumer habit of constantly buying and replacing bulbs. Since consumers aren't used to thinking of bulbs as durable goods, Cree bulbs, starting at just under $10, can create a bit of initial sticker shock. Still, they have been catching on, and Cree's revenue has been rising steadily, though its profit margins have been shrinking due to increasing competition. Recent cost reduction efforts appear to be solving that problem however, meaning that the company should be firing on all cylinders as it goes forward.
CREE Daily Chart


Click to Enlarge
Shares of Cree took a dive in August of 2013, falling from over $75 per share to just less than $60 per share, and despite some volatility in between, the stock is trading at only slightly above $60 per share today. This one is likely to be volatile, but a good speculative stock for those investors not adverse to a bit of risk.
By Julian Close of MarketIntelligencecenter