Emerging Markets Staging a Comeback?
04/02/2014 7:00 am EST
Focus: ETFs
Emerging markets have been hammered for the last two years, Chris Kimble of Kimble Charting Solutions has spotted two that are attempting to break out.
Over the past month, the S&P 500 is flat, no big deal. Over that same time period Brazil ETF (EWZ) is up 7.5%! Is a long-term trend change at hand in Brazil? Unless you live under a rock, you are well aware that BRIC countries have had a rough past few years. Is this drastic under performance by the BRIC countries finally about to change?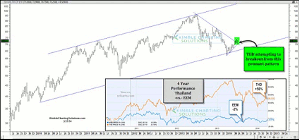 Click to Enlarge
The first step for Brazil is to continue to break overhead resistance and close above its 200MA by a solid margin. During the decline, EWZ has made runs to push above its 200MA by a decent margin, only to run out of gas and create another lower high.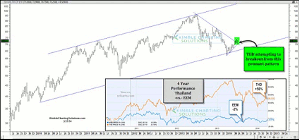 Click to Enlarge
Brazil isn't the only market attempting to breakout! Thailand is working on breaking resistance from this pennant pattern and remains inside of its rising channel. The inset chart reflects that Thailand has performed much better than EEM over the past few years. The power of the pattern looks positive inside of this rising channel and it is working on an upside pennant breakout.
By Chris Kimble, Founder, Kimble Charting Solutions