Are These "Momos" a Buy or Sell?
06/06/2014 7:00 am EST
Focus: STOCKS
A lot of traders love momentum stocks because of their "zippiness," but as Chris Lau of Kapitall.com highlights two that have been clobbered recently, he investigates whether it's time to get back in or sell any remaining positions.
"Momos" or momentum plays are having a rocky time these days. After peaking in March, 2014, many former momentum stocks sold off. Splunk (SPLK) is a case study in sell-off logic. The application software maker peaked at $106.15 and fell steadily since then. After the stock tried to rally back to $50, it sold off again, dropping 16 percent in a single day. When a stock falls by such a large amount, it is a good time to look at it as an opportunity.
Splunk, which makes tools to help enterprises analyze and visualize data, fell simply because its P/E (price to earnings) valuation is in the triple digits. Investors priced in strong future earnings, but Splunk said revenue growth will fall. The firm forecast revenue from licenses will drop from 42% in fiscal Q1 to no more than 35%.
Despite the lower growth, Splunk's revenue forecast of $92 million to $94 million for Q2 was above consensus ($91.6 million). For the fiscal year, Splunk expects operating margin will be zero. In Q1, operating margin was hurt by higher costs in R&D, G&A, and in sales and marketing. Investors are fretting over the higher costs accompanying sales growth. By selling off shares, investors are adjusting for lower future negative profitability ahead.
Some "momos" in the 3D printing space are faring no better. 3D Systems (DDD) raised valuation concerns after it issued a stock offering that would dilute shareholders by 5.8%. In the past, the firm grew revenue by acquiring companies. In theory, the share issuance should benefit shareholders if its future acquisitions support continued growth. More importantly, the company, and Stratasys (SSYS) need to get bigger to build a wider moat. Bigger firms like Hewlett Packard (HPQ) could disrupt the market and threaten the niche players.
Bottom Line
Splunk and 3D Systems are only two examples of momentum stocks that lost bullish investors. Future growth for these companies could slow, relative to their past growth rates. This is due to growing competition, as more players enter the market. At some point, the stocks will stop selling off, but in the meantime, investors should add these two companies to their watch list.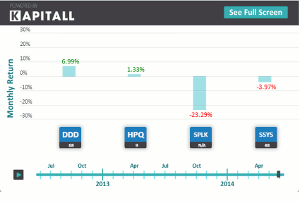 Click to Enlarge
1. 3D Systems Corp. (DDD): Engages in the design, development, manufacture, marketing, and servicing of 3D printers and related products, print materials, and services. Market cap at $7.83B, most recent closing price at $50.15.
2. Hewlett-Packard Company (HPQ): Hewlett-Packard Company offers various products, technologies, software, solutions, and services to individual consumers and small- and medium-sized businesses (SMBs), as well as to the government, health, and education sectors worldwide. Market cap at $57.06B, most recent closing price at $33.69.
3. Splunk, Inc. (SPLK): Market cap at $9.62B, most recent closing price at $40.50.
4. Stratasys Inc. (SSYS): Engages in the development, manufacture, and marketing of three dimensional (3D) printing, rapid prototyping (RP), and direct digital manufacturing (DDM) systems primarily in North America, Europe, and the Asia Pacific. Market cap at $5.26B, most recent closing price at $91.50.
By Chris Lau of Kapitall.com