Illumina Starting to Light Up Biotech Again
06/25/2014 7:00 am EST
Focus: STOCKS
Many biotech companies have seen their formerly brightly-lit stock dim in 2014, however, Greg Harmon of Dragonfly Capital sees new light staring to flicker once again in this provider of innovative genetic technologies.
The biotech space was red hot until earlier this year. Then it became icy cold. But some names are coming back and starting to look ready for the next leg higher. One of them Illumina, (ILMN), just missed being the Premium Service Top 10 this week. The only reason it was not involved was that the other name that replaced it had more upside potential. With Monday in the books, neither one fared well, but Illumina remains on watch for a move up. Take a look at the chart.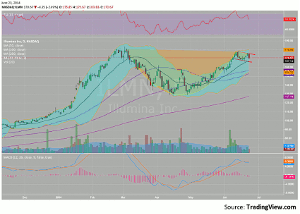 Click to Enlarge
The chart above shows a Cup and Handle pattern that has been building since mid March. It looked promising for a break higher after a minor pullback and reversal last week, but Monday put a pause in the plan. What makes it worth continuing to follow is that the Cup and Handle pattern carries a target of a move to 228 if it can get back over 178. The company reports July 22, so you have a month to get it going and can be safe without worrying about an earnings catalyst using the July Options chain. At the time of this writing, the July 175 Calls were offered at $4.90, making for a low cost defined risk trade. I would still wait for the trigger.
By Greg Harmon of Dragonfly Capital