Will Suspending Its Dividend Help Deep Sea Driller Transocean?
09/09/2015 9:42 am EST
Focus: STOCKS
Too much oil on the market is hurting the deep sea drillers, but Chris Lau, of Kapitall.com, takes to the charts to see if one company's recent decision to suspend its dividend—on the heels of another's choice to completely cancel its dividend—just point to how both companies have struggled over the last year or if it could also offer some hope for the companies' futures.
Low oil prices are hurting deep sea drillers, which is why Transocean halted its dividend. Is it a smart move?
Energy stocks are out of favor and deep sea drillers, exploration firms, and refinery companies are all performing poorly. The reason is simple: there is too much oil on the market. Transocean (RIG) has been hit particularly hard. On August 25, the deep sea driller said that it would suspend dividends. This is bad news for income investors, but the move offers hope for the company's future.
Transocean's move comes on the heels of fellow driller Seadrill's (SDRL) decision to completely cancel its dividend. Both companies have struggled over the last year: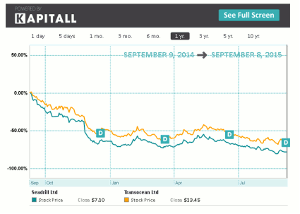 Click to Enlarge
Transocean's dividend suspension will encourage income investors to sell the stock as the company will no longer provides a steady stream of money each quarter. However, the move was necessary for the company. West Texas Intermediate crude oil prices closed below $40 on August 24 but have since rebounded to around $45. Low oil prices means rig rates will keep falling as drilling becomes less lucrative, causing firms to operate fewer rigs and contracts may get cancelled.
Transocean must protect its balance sheet by cutting costs and saving cash. Fortunately, the oil industry is highly cyclical. As the oil market works down the excess supply, drilling and exploration activity will eventually recover. Transocean must ensure its long-term survival while the industry consolidates. The firm has nearly $4 billion in cash and $3 billion available from its credit facility.
As 2016 approaches, the sector will have fewer rigs on the market. Leases will expire and Transocean will have acquisition opportunities. Smaller firms with a weak balance sheet may declare bankruptcy. Transocean could buy these firms at steep discounts.
Disclosure: Author owns shares of Transocean.

Click to Enlarge
1. Transocean Ltd. (RIG): Provides offshore contract drilling services for oil and gas wells worldwide. Market cap at $4.93B, most recent closing price at $13.45.
2. SeaDrill Limited (SDRL): Provides offshore drilling services to the oil and gas industries worldwide. Market cap at $3.54B, most recent closing price at $7.10.
(Monthly return data sourced from Zacks Investment Research. All other data sourced from FINVIZ.)
By Chris Lau of Kapitall.com