Upside Prices of Significance in Gold
09/23/2015 9:12 am EST
Focus: STRATEGIES
Though he personally does not see the infatuation with the yellow metal and his read remains that it is still in a downtrend, Greg Harmon, of Dragonfly Capital, illustrates how he has used several harmonic patterns to determine the price levels to watch for a potential reversal zone (PRZ).
The world is still fascinated with this shiny rock. Kings and Queens in Europe did whatever it took to get it. The miner 49'ers created booms and bust in the US. And traders and investors ask me about it every week. Personally I do not see the infatuation with a rock that has no value other than as a decoration. But hey, I don't have to like it.
But when I answer these inquiries the response is not all favorable. Everyone wants this shiny yellow rock to bounce. A child's analysis would tell you that is a silly hope. Rocks don't bounce. And that is my long-term view. The chart below shows it.

Click to Enlarge
After the meteoric rise over ten years, there was a sharp pullback and now a slow decline in a falling channel. The tight Fibonacci levels around 1300 and then 1100 to 1165 have made a short-term observer think that it has flattened and is ready to bounce.
To be fair, there is a lot of upside room in that falling channel. So lets look a bit closer and see what the important levels are should Gold start to move higher. The next chart looks only at the price action since the beginning of June. There are two prominent harmonic patterns shown. The Red one is a Butterfly. It may be premature to show as the price is still not to the mid August high that it would take to trigger it. But it shows a potential reversal zone (PRZ) at 1240. That is right at the top of the falling channel from the other chart.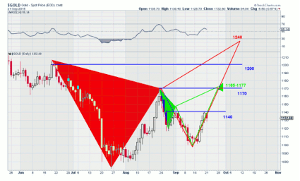 Click to Enlarge
The smaller green one is a Shark with a PRZ at either 1165 or 1177. You can see that these straddle the mid August high at 1170, which could create some resistance if it gets that high. The last two prices of importance to the upside are 1140, the current consolidation area, and 1200, the June high and a round number.
My read remains that Gold is in a downtrend. And every one of these price levels: 1140, 1165-1177, 1170, 1200, and 1240 can happen without changing that.
By Greg Harmon of Dragonfly Capital