Join Mike Turner LIVE at The MoneyShow Las Vegas!
Join Mike Turner LIVE at The MoneyShow Las Vegas!
Important to Always Hope for the Best but Plan for the Worst
02/17/2016 7:00 am EST
Focus: STOCKS
Given all the volatility seen in the market as of late, Mike Turner of Turner Capital Investments, LLC shares the reasons he feels we're still in a bear trending market and urges traders to remember to keep their stops updated and always assume the market will move against them.
We saw more volatility in the market last week. The upward trends we saw on Tuesday and Wednesday were wiped out by Thursday's sharp declines. Even with Friday's big bounce, both the S&P 500 and Dow closed out the week in the red. The market slipped below its January 20 lows on Thursday, so we are still in a bear trending market.
Tuesday, the market opened strong but the data continues to support selling into rallies.
Fed Chair Janet Yellen's two days of testimony before the US House and Senate last week contributed to the ongoing volatility. Her comments, as obtuse as they were, caused no small amount of speculation about whether the Fed is still on track to raise rates several times in 2016, discontinue raising rates, or even lower rates to below zero. No clear direction was provided and the market was left to twist in the wind with wild speculation.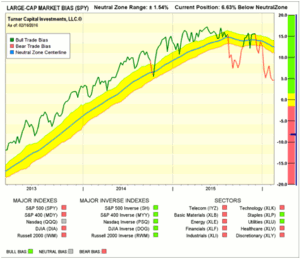 Turner Capital Market Bias for 02-16-2016
Click to Enlarge
The market is attempting to digest whether the US Fed is hawkish or dovish, whether or not Europe is sinking into another recession, whether or not the price of oil is telling us more about a weakening global economy than whether or not OPEC is going to curtail oil production, whether or not China can stabilize its worsening economy, and whether global emerging markets can finally reach a bottom before bankruptcy.
Global economic leadership appears to be grasping at straws to find a solution to dropping demand for goods/services and the specter of a potentially bursting asset bubble. Volatility is sure to continue in the near-term, but the trend seems to favor more downside than the upside. To read the entire article click here…
By Mike Turner, Founder & Chief Trading Strategist, Turner Capital Investments, LLC