Watch This Seasonally Strong Sector
Focus: STOCKS
As the market digests its recent gains MoneyShow's Tom Aspray is looking at stocks in the homebuilders sector, which is now in a seasonally strong period.
The stock market held up pretty well Monday as the S&P 500 is bumping into the 50% Fibonacci retracement resistance in the 1408 area. The McClellan oscillator, a short-term A/D indicator, has risen from a low of -285 on November 15 to a high last Friday at +140. It has now turned lower and a further pullback is likely.
A market correction over the next week or so is expected to be a buying opportunity and, of course, the challenge is to find the sectors and stocks that are likely to be leading the next market rally.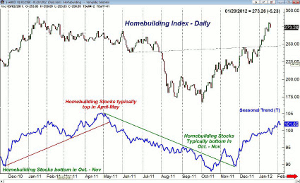 Click to Enlarge
The volume surge in the homebuilding stocks in October 2011 suggested a low could be forming and the fundamental data has been very positive for most of the year.
!--start-->
---