EUR/AUD Pattern Offers Great Trade
07/07/2011 6:00 am EST
Focus: FOREX
The euro looks poised to lose further ground against the aussie, and the emergence of a head-and-shoulders pattern allows traders to clearly define their entry, exit, and stop placement.
The euro/Australian dollar (EUR/AUD) currency pair has had a relentless downtrend since its October 2009 high of 1.9112. Recent movements to the downside, however, have been slowed by the formation of the May 11 low at 1.3226.
As price has moved in a consolidating pattern over the past four months, the pair looks poised for another breakout to lower lows.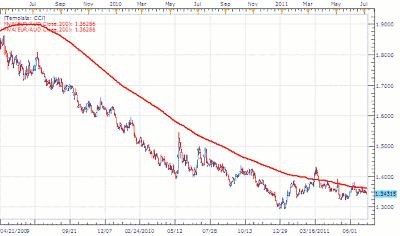 Click to Enlarge
Fundamentally, the euro still looks troubled. The latest round of the European debt crisis has seen the downgrade of Portugal's credit rating by Moody's earlier this week. Moody's downgraded Portuguese debt by four marks, moving from a Baa1 rating to Ba2, which is considered junk status.
As the fundamental picture still looks dim, we can look for this downtrend to continue.
Viewing price on an eight-hour chart, we can see a head-and-shoulders pattern being formed. Normally, these patterns are an indication of a price breakout, confirming the creation of new lows on our chart.
The left shoulder is formed from the June 21 high at 1.3606, followed by the head, which was created by the June 27 high of 1.3686.
The neckline has just been broken under the 1.3500 figure, confirming the formation of the right shoulder for this pattern.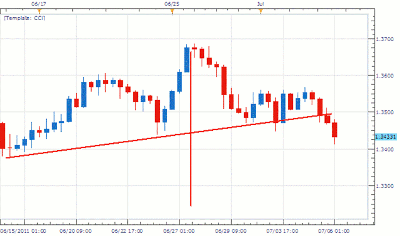 Click to Enlarge
My preference is to sell the EUR/AUD, staying with our established trend and in line with our charting pattern.
Entries should be placed as close to resistance as possible near 1.3500. Stops should be placed above the neckline at 1.3625 or better. Limits should be by finding the distance from our high to the center point of our neck line. We should be looking for a minimum of 250 pips in profit, placing our limits near 1.3250 for a clear 1:2 risk/reward setting on the trade.
See video: Make Sure Risk/Reward Is on Your Side
Alternative scenarios include continued consolidation on the EUR/AUD prior to the break of the trend line.
By Walker England, contributor, DailyFX.com