How Far Will the Euro Correct?
Focus: FOREX
The euro is coming off its highs—figuratively and literally—as the single currency saw a sharp sell-off during the Tuesday trading session as Raghee Horner of InterbankFX looks at the factors likely to fuel further sell-offs and key levels to watch.
The strong Italian and Spanish bond auctions have continued as the EUR/USD trades well above the floor at the 1.2000 major psychological level. The problem is that the continued strength above 1.3200-1.3400 poses a problem. One that the ECB has to reel in….
The increased exchange rate for the euro has become the new headline that is driving the single currency lower and it's a real threat.
Europe cannot have a surging currency and keep exports competitive (think: Germany). The Fed did offer some temporary help by squeezing US dollar shorts with their "test balloon" of a mid-to-late 2013 easing wind-down. The market still remains unsure of ultimately the when of this but it has priced in an end to QE4-ever.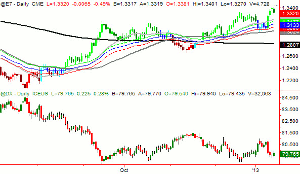 Past performance is not indicative of future results
Click to Enlarge
The strong correlation to US equities puts the debt ceiling (read: the next crisis) front and center for the euro as well.
!--start-->