Forex Trading in a Busy Economic Calendar Week
07/31/2013 9:00 am EST
Focus: FOREX
There is a deluge of data this week, and Mike Kulej of FXMadness.com notes several announcements that could create swings in various currency pairs.
Several central banks are holding their respective policy meetings this week. Among them the Fed, the ECB, and the BoE. It is only natural that analysts and other market observers suggest cautious approach to trading, since unexpected outcomes can not only create immediate, strong price swings, but also start intermediate-term moves. However, there is little chance that these meetings will deliver stunning surprises. For example, the Fed would have to shed significantly more details about the tapering plan, which most likely is not even formulated. In case of the ECB, only a rate cut could create extra volatility, and chances of this happening before September are slim.
Fortunately, that does not mean trading should be dull. Quite the opposite. There are enough scheduled announcements on the calendar to keep everybody busy. On Friday, the NFP report and unemployment data from the USA will almost certainly cause swings in currencies. In the meantime, we also have inflation numbers from Europe and the ISM Manufacturing from the USA. In addition, the commodity currencies should respond Manufacturing PMI from China on Thursday. Traditionally, this indicator is a market mover, especially in case of surprises, which happen often.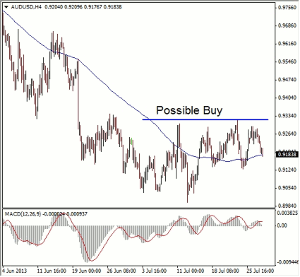 Click to Enlarge
In case of the Australian dollar, that could mean a breakout from its present consolidation. The AUD/USD has been trending since mid June, forming solid resistance at 0.9320. Its recent attempt of a bullish breakout failed and price is drifting sideways. The longer this lasts, the better the chances for a downside move, resumption of the previous trend. However, if we see another price run up soon, I will be willing to go long above 0.9320, looking for 200 pips.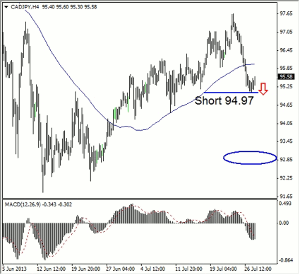 Click to Enlarge
Another trade under consideration is in the CAD/JPY using its 4H chart. Here the price made a low at on Monday of 95.07and is currently rebounding. If it dips under the 95 threshold, I want to sell it, with objective about 200 pips below. Clearly, given tame frames involved, both of these trades could take some time to fully develop, but the wait might be worth it.
By Mike Kulej of FXMadness.com