Normal Conditions Appear to Be Returning, as ATR Indicators Lead the Way
09/02/2014 9:00 am EST
Focus: GLOBAL
Tom Cleveland on ForexTraders.com reviews the daily pricing behavior of a currency pair over the previous two months to see if volume has picked up and currency traders should now be preparing for the return of volatility.
The lack of volatility in the forex market has confounded analysts for some time this summer. As per the old maxim, the "Sell in May and Go Away" mentality seemed to have overtaken a majority of the trading community, resulting in lackluster trading volume, chaos nowhere to be found, and tight ranges that have shattered records far and wide. But, perhaps, this period of summer doldrums is soon to be a matter for the history books. Volume has picked up and Average True Range indicators (ATRs) are rising.
ATRs tend to be harbingers of imminent changes on the horizon. As a point in fact, if you heed the wisdom spoken by famous traders that have amassed fortunes from their trading pursuits, you will follow the activity of ATRs like a hawk. Paul Tudor Jones, one such trader known for his trading prowess, once revealed, "When you see a range expansion, the market is sending a very loud, clear signal that it is getting ready to move in the direction of that expansion."
If we are attuned to the advice of Mr. Jones, then we might want to take interest in the current daily chart for the euro versus the US dollar (EUR/USD):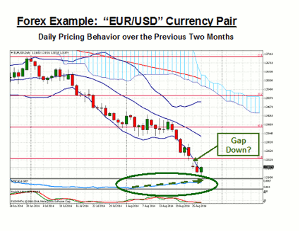 Click to Enlarge
Europeans have been vacationing over August. Some analysts attribute that lack of trading activity to this very situation, but we live in a virtual world these days. The observable uptick in the ATR values that began in August, as noted by the dashed green line in the chart, may truly have come from worried traders that did not trust their assistants that were left at the helm back home. Laptops and tablets were buzzing on private networks, unwinding unprofitable positions every step of the way.
The reasons for concern are varied. It is a known statistical fact that major market reversals tend to follow long holiday periods. The contention is that when traders have time to ponder the true fundamentals, instead of reacting to market insecurities, they reconsider their near-term strategies and change direction. This re-thinking process may account for a bit of the rise in daily ranges, but there are other reasons to ponder, as well.
The next obvious place to look is to review the central banking context of the market, and in this case, all eyes are focused on Mario Draghi, the presiding head of the ECB. He has tried valiantly to hang onto a strong euro valuation, despite political pressure demanding a less austere stance. It is only recently that he has tantalized the market with comments that suggest that maybe he is finally cracking under the pressure. The lack of inflation and consistent GDP growth in the region has daunted his every move.
And then, two weeks ago, a global consortium of central bankers boondoggled their way to beautiful Jackson Hole, Wyoming for a meeting. Janet Yellen and Mario Draghi were the featured speakers, and while their dissertations on global economics put most reporters to sleep, Mario did manage to wake a few from their snooze-fest with his cogent remarks.
He was confident that current policy directions were working, but there was real risk that they might fail to deliver expected results if leaders were not more flexible. "No amount of fiscal or monetary accommodation, however, can compensate for the necessary structural reforms in the euro area," he said. These reforms "can no longer be delayed."
Analysts are currently predicting a quantitative easing program in six months for Europe. But, for now, the euro gapped down, as depicted in the chart. Many expect that gap to be filled and shorts to be squeezed. Chaos is back!
By Tom Cleveland, Contributor, ForexTraders.com