Heavy Call Activity on GE, NUE, and More
05/14/2009 12:20 pm EST
Focus: OPTIONS
Citigroup Inc (C), Bank of America (BAC), General Electric Co (GE), CME Group Inc (CME), and Nucor Corp (NUE) were among the stocks showing a skew toward call buying on Wednesday.
In yesterday's post, I referred to Citigroup and Bank of America as the dynamic duo of call open interest. Today's appearance on the list below just adds to that.
The activity on General Electric comes at a curious time. This intraday chart shows the action since the beginning of April.
For much of that time, shares of GE have trended steadily higher, however, we have seen sharp selling in the last two sessions. The uptick in optimism is, therefore, a potentially worrisome sign. The stock is currently testing support near 12.50, so it will be interesting to see if it can stabilize there. If not, some of the bulls may start to get nervous.
On Tuesday night, I noted that CME Group was testing the upper boundary of its near-term range. The stock staged a breakout yesterday on relatively heavy volume. Call buyers on the International Securities Exchange did take notice of this strength, but as mentioned Tuesday, analysts are mostly on the sidelines, so the sentiment is far from overly enthusiastic.
The upbeat feelings toward Nucor Corp strike me as strange when you look at the chart.
The shares staged a quick rally near the end of last year, but have drifted aimlessly for the last five months. As it stands now, the equity is threatening to break a short-term pattern of higher lows. None of this is action that I would get excited about. I am curious if any news develops here.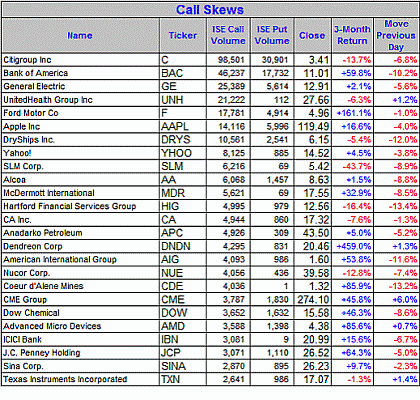 This filtered scan is based on the International Securities Exchange (ISE) buy-to-open data. It looks for stocks where the previous day's call volume on the ISE is at least twice as great as the put volume. It then sorts the stocks based on the call volume. Since this is buy-to-open data, this can be a good source for finding stocks where optimism is emerging. Of particular interest to me would be situations where we see call activity on stocks that are still in intermediate-term downtrends.This would be a potentially cautionary sign from the contrarian perspective.
By Nick Perry of Schaeffer's Trading Floor Blog