Options Plays for a Confused Crude Market
11/14/2012 7:00 am EST
Focus: OPTIONS
The crude oil market has been sending mixed signals since the election, and Matt McKinney of Zaner Group offers a few ways to play this confusion.
Trying to make sense of the commodity and futures markets whether it be fundamentally or technically, the day of the election and the day after the election was in my opinion, impossible. Again, just my opinion.
Fundamentally, I would like to share two separate headlines from two separate articles in the same publication…I will not name the publication, in this case, because I have the utmost respect for the writers, editors, and I get a ton of my research from them and they are, to put it plain and simple, "life-savers" for my articles and the research and facts contained within their work. However on November 9, I found this extremely peculiar when one headline for an article read, Oil Rises as Consumer Sentiment Gains and on that same day—November 9—and in that same publication another headline, in a different article on the same subject read Oil Trades Near Four-Month Low on Demand Concern.
If you are as old as me, then you will know what I'm talking about when I say, "but, Mista Kotta, I'm so confused", quoting Vinnie Barbarino, who also used to say on that same fabulous show from the early 80s and the late 70's..."gimme drugs, gimme drugs, gimme drugs,". Okay, Okay the show was Welcome Back, Kotter, please Google it; it was my favorite TV show in the 70's and 80's and I mean better than Happy Days and Laverne and Shirley. With characters like JJ Washington, who used to say "Hi There" to all the pretty girls, Juan Epstein who was late for class everyday and would bring in some ridiculous note/excuse that was always signed, "Juan Epstein's Motha", and finally Horseshack who used to raise his hand every time there was a question and say Oooooh, Ooooh, Ooooh, Ooooh, until Mr. Kotter finally called on him and he would say...."What was the question?" or something funny like that.......Oh the late 70's and the early 80's. Well, the good news is unlike Vinnie Barbarino I'm not "so confused" and I don't want anyone to "gimme drugs, gimme drugs, gimme drugs".
I've got real ideas that have been researched in a professional matter about this oil market. The bad news is that I could still be wrong. That is why I am a technical trader who relies mostly on the charts. So the other bad news is I could still be wrong because as of now, 15 years into the business I have yet to find anything whether technical or fundamental that works 100% of the time. Have you? If so call me ASAP.
NEXT PAGE: Mixed Signals from Crude Oil
|pagebreak|
Technically, below on this daily NYMEX Crude Oil Futures chart according to my indicators the market is in a super-trend down, due to the fact that the 9-day simple moving average (red line) has crossed under the 20-day simple moving average (green line) while both indicators are pointing lower on fairly steep angles and the market is trading below these SMA's. When I discuss charts and my technicals, always remember past performance is not indicative of future results. There are couple of concerns due to the crazy NYMEX oil trading days of the election that kind of threw the 9-day SMA of a little bit as its now kind of pointing sideways with ups and downs contained within it. However, if the NYMEX crude continues lower that 9-day SMA will begin to point down sharply.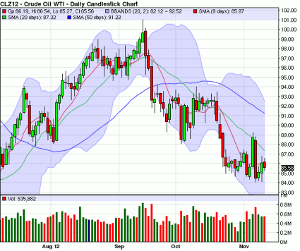 Weekly NYMEX Crude Chart
Click to Enlarge

Technically, what I see here is complete confusion. This is one of those rare occasions when my 9-day SMA doesn't know where to go. My 20-day SMA is at least pointing lower, but then the 50-day SMA is going completely sideways. The end of the Bollinger Bands are so far apart, the range is too large for me to offer a play here. However, one thing is for sure, the top line and the bottom line of my BB's are pointing sideways. So if backed into a corner, my opinion according to my indicators, is that on this weekly NYMEX crude chart is in a weekly range albeit a wide one!
Options Play
A potential options play could be to sell deep out-of-the-money crude calls. This could be the riskiest play possible, and is not for everyone. At the same time it can be a slow and steady way to build your account. This type of strategy is not only very risky, but it requires discipline, patience and a generously funded account.
Another potential option play, which doesn't require such a generously funded account would be to buy options because when we buy options we have a limited risk, it is no less risky than trading futures…the risk is just limited to the cost of the option, the fees, and the commissions so at least you know the worst case scenario up front when you buy calls or puts. You could lose everything you invest but not a penny more and since you are never "locked" in you can get out and cut your losses anytime before expiration.
The play in buying options here could potentially be to buy outright put options or bear put spreads on NYMEX crude future. When we do this I always recommend that in a 3 to 1 ratio we buy a call (in this case because I am bearish). The 3 to 1 ratio is something that I have worked on for about 15 years...I've tried 5 to 2, 5 to 1, 4 to 1, 4 to 2, while there are no guarantees at all the 3 to 1 seems to work as good insurance policy, if we are really wrong, not only do we sleep better at night but the call in this case could really soften the blow as it may go up in value as our puts come down.
By Matt McKinney of Zaner Group