The Market Bid Is Very Strong: Hang Onto Your Calls
11/14/2014 8:00 am EST
Focus: OPTIONS
Pete Stolcers, of OneOption.com, illustrates how he's in position management mode and—given the steady grind of the stock market—he offers a bit of prudent risk management advice for eager option traders wondering about entries and exits.
Wednesday, the market probed for support early in the day. I mentioned that there wasn't any news to justify the move and that the dip would probably last a few hours. Buyers stepped in and the market recovered quickly.
This price action validates a strong bid. Asset Managers that are underinvested don't want to miss a yearend rally. Bullish speculators are also piling in. A steady grind higher (no massive spikes) will keep the dips small.
China's industrial production and retail sales were in line with expectations. GDP is on track to grow 7.4% and there are some rumblings that the PBOC will inject liquidity.
Europe will post GDP's tomorrow. Germany is the key and recent data suggests that conditions have stabilized. The overall reaction should have a negative bias, but the damage should be contained.
US retail sales will be posted Friday and analysts will be looking for an uptick in consumption. Gas prices are low and that should spark spending. Retailers have been posting results and top line growth is very thin. Nevertheless, these stocks have been moving higher after the number.
The macro backdrop is very bullish. I haven't given you the rundown of bullish influences in a few days so let me repeat them. The GOP won elections and they control the House and the Senate. This is good for business (fewer regulations) and we could see a tax holiday for overseas profits ($2T).
The Fed remains accommodative and disinflation concerns will push back tightening. They don't meet until December and no news is good news.
Corporate profits have been fantastic and 75% of the announcements have exceeded estimates. Profits are up 7.5% and that is the best level in years.
Central banks are easing and interest rates are near historic lows. Stocks are attractive on a relative basis and companies are buying back shares at a record pace.
West Africa is reporting fewer Ebola cases and this crisis is not escalating.
US domestic growth has been strong and seasonal strength is working in our favor.
I am long in-the-money calls that have a high delta (35% of my normal position). I am also short out-of-the-money put credit spreads. If the market makes a nice directional move, I am day trading the S&P futures.
I am in position management mode. I am not increasing my exposure, but I am rotating in and out of stocks.
Stay long and use (SPY) $203 as your stop (closing basis). We will keep raising our stop as the market climbs. This is just prudent risk management.
I don't see any spoilers for the next week and the price action should be positive Thursday.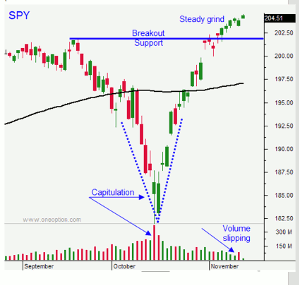 Click to Enlarge
By Pete Stolcers of OneOption.com