VVIX Is Normal
10/07/2015 8:00 am EST
Focus: OPTIONS
Option trader Mark Sebastian, of OptionPit.com, discusses the seriously bullish trends he saw on Monday and illustrates that it's important for option traders to monitor the volatility curve. Mark also highlights what he might look at as a play on term structure and vol premium.
Monday we saw a few seriously bullish trends. The VIX cash index fell below the October future, the November future is now trading at a discount to December and flat with the cash index.
Additionally, the VVX has finally been slammed back into normalcy by the market. VVIX is now near 90 and below its 200 DMA. A sign that the VIX of VIX is reverting to its mean. This is usually a sign that VIX is going to do the same. I would not be shocked to see a 17 VIX in the next week or two.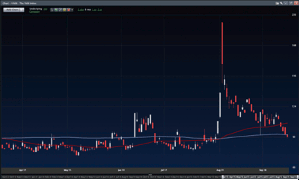 Click to Enlarge
I would be an interested VIX premium seller still even with things down here. I might look at some sort of long Nov short Oct trade that gets me short Oct vol but will long vol in general. I still think the days of 12 VIX are gone, but we might be in the middle of a lull until Fed talk heats up again.
The Lesson: VIX options and VIX futures have been ahead of things for some time. It's important to monitor that curve
The Trade: I might look at some sort of diagonal Oct-Nov call spread as a play on term structure and vol premium.
By Mark Sebastian, Blogger and Contributor, OptionPit.com