A Dow Theory Darling
Focus: STOCKS
When it comes to playing the fundamentals in a recovery, it starts with the transports, and nothing defines domestic transport than a company that specializes in trains and train parts, notes Jack Adamo in Insiders Plus.
Gimme a brake. Or at least a brake company.
Specifically, one from Westinghouse Air Brake Technologies Corporation (WAB). Wabtec, as it calls itself nowadays, provides products and services for the freight rail and passenger transit industries worldwide. The Freight Group builds, rebuilds and services freight locomotives and freight cars, and supplies railway electronics and railway signal equipment.
The Transit Group manufactures, rebuilds, and services commuter locomotives, subway cars, and buses. Many Wabtec products are very high tech electronic systems used in various safety applications, including such things as GPS tracking of trains and buses. The company was founded in 1869.
In case you're an art lover like me, let's start this story with a beautiful picture.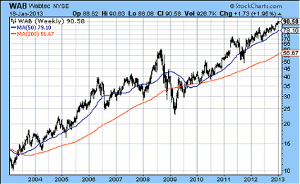 Click to Enlarge
The stock is up more than seven-fold in the last 10 years, and as you can see by the above masterpiece, there isn't the slightest hint of deterioration on this beautiful canvas. There's no wondering why. Railroads carry 43% of North American inter-city freight.