A Smart ETF to Play This Rally
02/27/2012 5:45 am EST
Focus: ETFs
The markets have been moving up, as it looks like Europe will be able to sort out its economic troubles. That means the slowly recovering US market has one less threat, so it's time to play the rally, writes Doug Fabian of ETF Trader.
If you are hoping to profit from the market's recent run-up, consider buying an exchange traded fund (ETF) that gives you exposure to some of the best-established companies available. One way to do so is by investing in the SPDR Dow Jones Industrial Average ETF (DIA).

The fund seeks to provide investment results that, before expenses, generally correspond to the price and yield performance of the Dow Jones Industrial Average. Without question, DIA has been on a roll lately, as the following chart shows.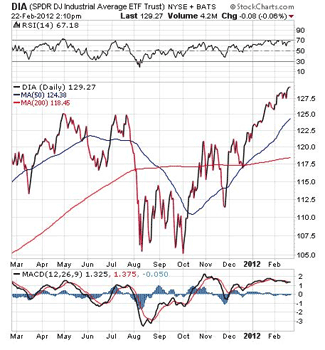 Click to Enlarge
As of February 21, DIA's top sectors and their respective weightings are: industrials, 22.27%; information technology, 17.6%; consumer staples, 13.53%; energy, 11.37%; and consumer discretionary, 11.02%.
As far as the fund's top five individual holdings and weightings on February 21, they consist of: International Business Machines (IBM), 11.28%; Caterpillar (CAT), 6.71%; McDonald's (MCD), 5.86%; 3M (MMM), 5.11%; and Exxon Mobil (XOM), 5.05%.

On February 12, DIA closed at $129.23 per share, after paying a dividend of 33.2 cents. The last time the fund topped that level occurred on May 19, 2008, when the fund closed at $130.23 per share.
The ETF's rising share price may have been aided by positive fourth quarter and full-year 2011 results from Home Depot, Inc. (HD) and other companies that are doing well during a weak economy. Indeed, HD is DIA's 16th largest holding as of last week.

The world's largest home improvement retailer reported that it notched sales of $16 billion for the fourth quarter 2011, a 5.9% increase from the fourth quarter of 2010. Comparable store sales for the fourth quarter of 2011 jumped 5.7%, and comparable sales for US stores alone rose 6.1%.
Also impressive is that Home Depot's 2011 sales reached $70.4 billion, up 3.5% from 2010. In addition, the company's comparable store sales for 2011 climbed 3.4%, and comparable sales for US stores alone rose 3%. It seems apparent that the do-it-yourself market is on the ascent, amid economic weakness in other sectors.

Home Depot also announced on January 20 that it had acquired Redbeacon, an online home-services platform that connects consumers with contractors for their home maintenance, repair, and remodeling needs. Based in San Mateo, Calif., Redbeacon assists homeowners in connecting with qualified local service professionals, so Home Depot now seems better positioned to compete for the business of online buyers to sustain its sales growth.
Since people generally look for ways to save money in a weak economy, Home Depot is an example of a company that can grow in both good and bad times.

With DIA's diversification, you can benefit from its holdings in stocks such as Home Depot, without risking all of your money on the fortunes of just one company. That benefit is a clear advantage of using ETFs.
Subscribe to ETF Trader here...
Related Reading:
3 Perfect ETFs for Yield Lovers