Join John Person LIVE at Back to the Futures!
Join John Person LIVE at Back to the Futures!
Warm Winter Is Bullish for Pests
04/03/2012 9:00 am EST
Focus: COMMODITIES
Despite the bullish crop report, warm weather this winter is likely to make the pest problem much worse this season, and traders should favor the top seed stocks instead of the big fertilizer names, writes John Person.
Last Friday morning, the USDA came out with quarterly grain stocks and the annual prospective planting report. This report revealed what supplies we have left over from the 2011 harvest, as well as which products farmers expect to plant and how many acres will be devoted to these crops.
It was very bullish for nearby grain contracts: right after the open, the front-month contracts for corn were up 36 cents, soybeans were up 52 cents, and wheat was up 30 cents.
Bottom line: there was less corn than expected in storage, but farmers intend to plant more acreage. There is lower-than-expected bean storage, and they expect to plant fewer acres.
That is why the nearby front-month contracts were up in the markets, and why the new-crop months were sharply higher in beans and less so in corn. Due to increased global demand for both feedstock and energy, corn, which is used in ethanol, is literally not just a cash crop, but a hot commodity, and one of the many reasons why farmers plan to plant more acreage this year.
So what are the prospects for corn prices? Is this a one-day rally, or can we see an extended gain?
To answer these questions, let's turn to my favorite analytical tools. First, I like to look at the seasonal analysis, and in the Commodity Traders Almanac (pages 158-160), we see that corn prices have a strong seasonal tendency to move higher in April. Since 1970, during the month of April, corn prices have moved up from March's closing price 25 times versus down 17 times, so 69.9% of the time. The average gain is 1.7%.
See also: The 4 Key Seasonal Trends for 2012
The best percentage gain was in 1987 with a 13.4% month-over-month gain; the worst-performing year was back in 1992 with a 5.6% loss. As this article was prepared before the close on March 30, the last price for the May futures contract was 644, the maximum daily trading limit.
Assuming this is the closing price for the month, by historic standards (1970 to the present), if we have an average monthly gain in April of 1.7%, that puts May corn futures at 655. If we use the historic high, or 13.4%, then that targets corn prices closer to 730 per bushel.
Now let's examine the technical picture. The Person's monthly pivots target the April high for the May contract at 678.75. That actually represents a 5.5% gain, well within the normal to upper percent gains from a historic standard. The on-balance volume (OBV) indicator reflects substantial selling pressure in corn from the peak in early March. Therefore, I would expect any test of that level to be met with more selling pressure.
See related: OBV: The Perfect Indicator for All Markets
In the bottom quadrant of the chart, we have a graphical layout of the CFTC Commitment of Traders report, which reveals the small speculators are net short, the commercials are net short, and the large speculators (hedge funds) are the ones net long. So far, they are right, but since they are in the game for performance on equity and not taking delivery, I suspect they will look to take a profit at some time.
Therefore, I would be looking to buy dips if one occurs in early April, but I will be looking to sell closer to the 675-725 range basis the July contract towards month-end.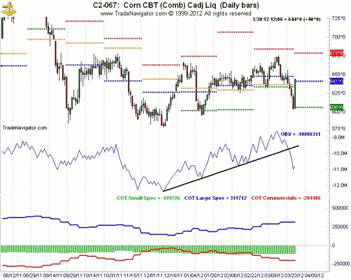 I am not sure if many traders are aware of this twist, but due to an incredibly warm, dry winter, many Ag experts are predicting an upturn in the pest population because larval stages of pests may have survived. Therefore, farmers might be buying more GMO seed and more pesticides than they will fertilizer this growing season.
As outlined above, according to the USDA, farmers intend to plant more corn; usually, that increases the need for potassium chloride (potash). The crops for which potash is in high demand include fruits and vegetables (18% of total demand), wheat (16%), corn (12%), and rice (12%).
In addition to this quarterly report, as a direct result of warmer and dryer weather, some farmers intend on planting corn earlier and may have trimmed their fertilizer consumption to cut costs. That means fertilizer stocks which can still move higher might not outpace the sales of chemical pesticide and GMO seed.
With that said, I want to watch these chemical/seed stocks for a stronger seasonal move up:
Syngenta (SYT): Very light option volume
Dow Chemical (DOW): Moderate option volume
Monsanto (MON): Moderate option volume
These are fertilizer stocks to watch that might have further (but limited) upside:
Agrium (AGU): Very light option volume
Potash (POT): Moderate to higher option volume
Intrepid Potash (IPI): Light option volume
Mosaic (MOS): Light option volume
Terra Nitrogen (TNH): No options
Disclosure: I have no positions on in these securities as of 4-02-2012.
By John Person of PersonsPlanet.com