Biotech ETF Trend Likely to Continue
08/15/2012 10:00 am EST
Focus: ETFs
This high flyer shows no clear signs of stopping, although caution is always warranted, writes Frank Kollar.
Shares of the Market Vectors Biotech ETF (BBH) may have the reputation of being volatile, but for those looking for a strong current uptrend, BBH fits the bill.
Since hitting correction lows at $29.33 back on August 7, 2011, BBH has risen steadily over the past year to $49.66 as of Monday, August 13 near the close. This 69% gain puts the biotech sector near the top in performance.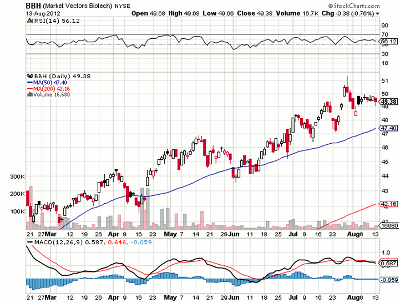 Click to Enlarge
There is still some volatility, and buyers of this ETF should be prepared for 5% to 8% pullbacks.
A trailing stop around 10% should protect against a further corrective movement. Even lower risk would be had with a stop at $47 a share, the July 24 correction low.
Frank Kollar can be found at FibTimer.com.