Trading QE3 with ETFs
09/17/2012 9:00 am EST
Focus: ETFs
Corey Rosenbloom explores Friday's markets to uncover areas for potential profit from the Fed's QE3 announcement.
It may be helpful to spend some time this weekend studying which stocks and ETFs moved the most (higher and lower) after Thursday's QE3 policy announcement.
Let's take a quick look at which major ETFs moved the most on the day QE3 was announced. Here's a "Bubble Chart" from FinViz.com which emphasizes percentage movement of ETFs: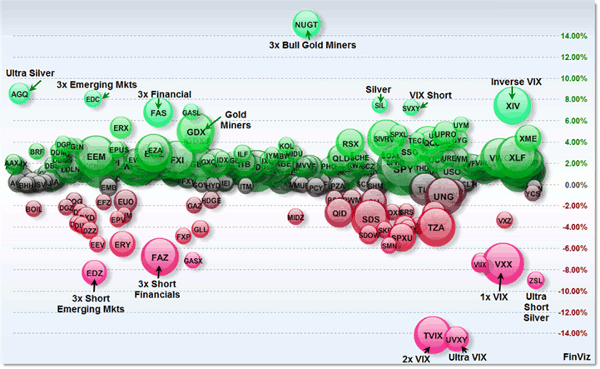 Click to Enlarge
While most exchange traded funds clustered today around the +2% and -2% region, we do have standalone clusters that may warrant more attention.
The top and bottom performing ETFs—no surprise—where the double and triple leveraged funds, though clear themes do emerge. Emerging markets and financials, specifically the leveraged 3x bull funds, were among the top ETF performers, along with leveraged inverse VIX (volatility index) ETFs.
Gold and silver ETFs outperformed all other ETFs, with the low-priced (and large percentage mover) Direxion Daily Gold Miners Bull 3X Shares (NUGT) fund rallying over 14% on Friday. For an interesting reference, here is the chart of NUGT (an ETF that most people may not know exists):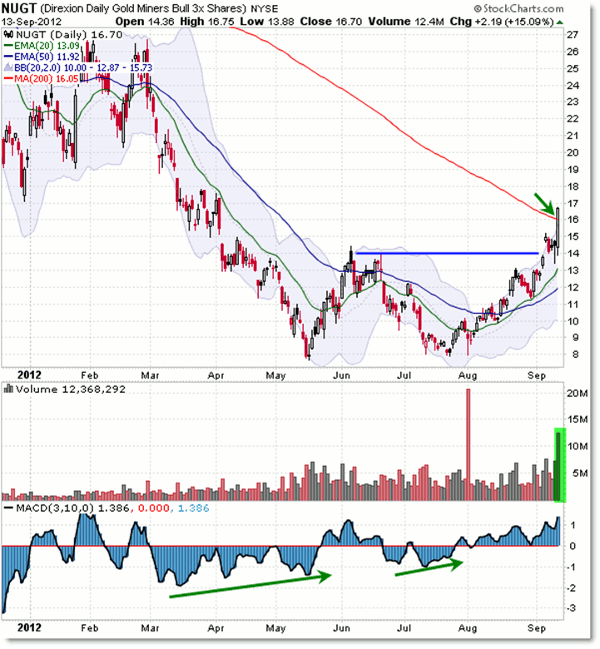 Click to Enlarge
A quick look at the chart above shows a corresponding bullish break above the $14 per share area (June high) and the $16 price that represents the 200-day SMA (but be very careful about doing chart-based analysis on leveraged ETFs). Volume also has been steadily increasing during the August rally, which suggests traders expect higher prices to come.
Next: The worst perfoming ETFs
|pagebreak|
On the flip-side, the worst-performing ETFs were the corresponding leveraged companions to Gold/Silver, Emerging Markets, Financials, and VIX-based ETFs. The two worst-performing major ETFs according to FinViz were leveraged (bullish) VIX funds, TVIX (TVIX) and UVXY (UVXY) .
The popular Ultra-Short Silver ETF (ZSL) declined almost 10% in Friday's session, as seen below: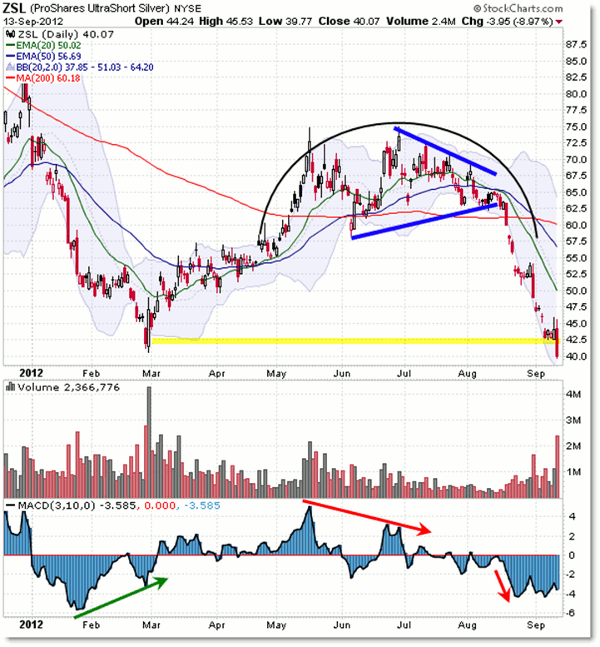 Click to Enlarge
Leveraged ETFs should be seen as short-term trading vehicles only—one can get in trouble quickly holding a losing trade over multiple sessions.
After the early August triangle breakdown at $62.50, ZSL quickly traded toward the February low near $40, which was achieved in soon after on broken support (and higher sell volume).
These are just a few ideas to get your analysis started this weekend for new ideas to study with regards to a post-announcement QE3 market movement.
Even if you don't trade leveraged ETFs, look for recurring themes of relative performance and broad ETF movement for theme-based trading opportunities. Last week's single-day performance suggests focusing our attention on commodity-based ETFs.
Corey Rosenbloom is a trader and blogger at AfraidToTrade.com.