Top Earnings Season Stock Leaders
05/08/2013 7:00 am EST
Focus: STOCKS
The staff at Briefing.com puts together a list, which features names in their proprietary Focus List of the most liquid, high relative strength stocks in the market that are ideal for day and swing trading candidates.
Earnings season is in full effect, so be sure to identify upcoming release dates among those stocks that you're interested in as it could have a significant impact on price.
Generally speaking, reactions to these fundamental and technical leaders should be positive. Failure to show significant upside, breakouts, or holding key support is a "red flag." A gap down or heavy volume distribution in reaction to earnings should also be a concern.
Traders should also keep track of those stocks that react significantly post-earnings. More often than not, a pullback or a consolidation a few days after earnings can offer a better entry point in the direction of the current momentum. Prior to earnings, stocks holding along key moving averages can usually provide a low-risk entry for a leg higher.
Chart Analysis
STX - This leader has been on and off our Focus List the last few months while its peer WDC has remained among the top portion of our list, therefore, making it one to keep on the radar. This week's heavy volume breakout over 38 from what appear to be a cup & handle pattern is worth noting. Upside target is around $45 as long as price can maintain strength above 37/38.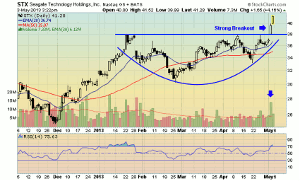 Click to Enlarge
SPLK - This leader should be the poster-child for the exactly the sort of responsive buying you want to see. The stock runs up, settles into a pullback/consolidation in which it attracts bids along key support, trendlines, and a rising 20-day moving average...all signs of accumulation. The only thing better than that is a positive gap up on earnings. (Earnings scheduled for May 30).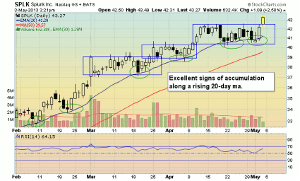 Click to Enlarge
LNKD - #1 on our list made a strong run up to the $200 mark before earnings, but under aggressive distribution thereafter. Currently probing its 50-day ma's and the uptrends along multi-week lows around 175 area. A broken stock for now that needs to let the dust settle a few days before re-evaluating its leadership.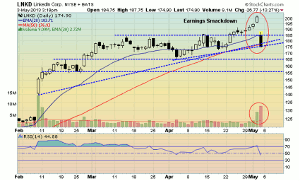 Click to Enlarge
AGN - Another leader that demanded getting out of the way as price crashed through its 50-day ma post-earnings. More often than not, if a 50-day ma holds support but is retested a few sessions later, as AGN did, it's usually a warning sign that buying has dried up and sellers are gaining control.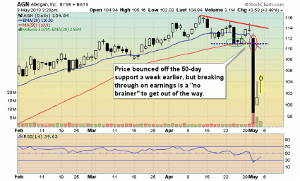 Click to Enlarge
NEXT PAGE: The 50 Most Liquid Stocks
|pagebreak|
Liquid Momentum Rankings
With equity markets always in motion and leadership rotating from one group to another, this list is designed to help active day and swing traders stay on top of the highest-quality trading names. It is generated from a proprietary algorithm that places heavy emphasis on superior relative strength vs. the all stocks universe, high average true range (ATR) values, and high average daily volume, among other data points. An updated list is published each Monday, along with charts and commentary throughout the week highlighting the most compelling set-ups and patterns.
*For an unformatted list of Liquid Momentum tickers to import into your software, click here.
ADDITIONS: ACGL, ADP, AXS, CBD, DDD, GOOG, MGA, MHK, PRU, SEIC
DELETIONS: AXLL, BEAV, CVS, HD, JNJ, KKR, LNC, LRCX, MPC, TSO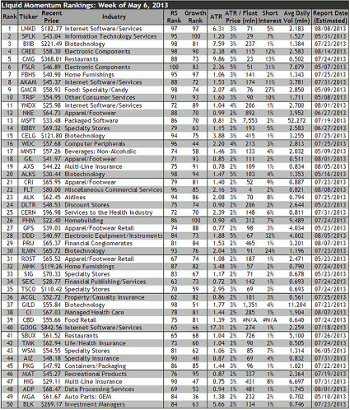 Click to Enlarge
Liquid Momentum is Briefing.com's proprietary Focus List for the 50 most liquid, high relative strength stocks in the market that are ideal for day and swing trading candidates.
By the Staff of Briefing.com