Should You Add Netflix to Your List?
06/30/2015 7:00 am EST
Focus: STOCKS
Despite the fact that these two stocks are not comparable and both represent opposite ends of the spectrum when it comes to valuation, given Carl Icahn's stock sale announcement last week, Chris Lau, of Kapitall.com, highlights what to watch for moving forward over the long-term.
After Carl Icahn ditched Netflix last week, maybe it's better to own a Netflix account than actual shares.
Shares of Netflix (NFLX) defied gravity and reached $706.24 earlier this year before pulling back. The stock then closed at $651.62 last week after Carl Icahn, a famous activist investor, sold whatever he had left in the company and netted $1.6 billion.
Icahn tweeted about his sale:
Sold last of our NFLX today. Believe AAPL currently represents same opportunity we stated NFLX offered several years ago.—Carl Icahn (@Carl_C_Icahn) June 24, 2015

Apple (AAPL) and Netflix are not comparable and both represent opposite ends of the spectrum when it comes to valuation. Investors are paying a huge premium for Netflix. The belief is that the online movie streaming giant will grow exponentially for years to come. Netflix has a forward P/E over 70. Apple's forward P/E, on the other hand, is only 14: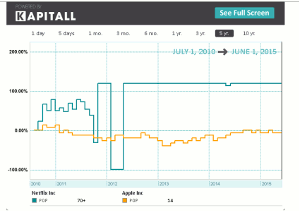 Click to Enlarge
Apple is generating enormous profits from the iPhone, but the company has two problems. First, its new music streaming business is late to the market. The initiative keeps the company relevant in streaming music but is unlikely to add meaningfully to profits. Second, the Apple Watch has yet to prove it is successful. The first generation wearable has limited battery life (of less than one day) and requires an iPhone.
Netflix is a $39.5 billion company. Its upcoming share split will boost liquidity and attract smaller investors.
Those considering an investment in Netflix should exercise caution. The share split changes nothing in the valuation of the stock: the market cap stays the same (number of shares x stock price). Even though the Apple comparison may not be apt, investors might consider following Icahn and selling the stock today.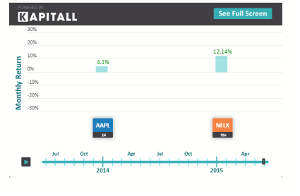 Click to Enlarge
1. Apple Inc. (AAPL): Designs, manufactures, and markets personal computers, mobile communication and media devices, and portable digital music players, as well as sells related software, services, peripherals, networking solutions, and third-party digital content and applications worldwide. Market cap at $730.21B, most recent closing price at $126.75.
2. Netflix Inc. (NFLX): Provides subscription-based Internet services for TV shows and movies in the United States and internationally. Market cap at $39.50B, most recent closing price at $651.62.

(Monthly return data sourced from Zacks Investment Research. All other data sourced from FINVIZ.)
By Chris Lau of Kapitall.com