Will Home Depot & Lowe's Get Nailed?
08/08/2013 10:20 am EST
Focus: STOCKS
Rising interest and stock valuations have dampened investor enthusiasm for homebuilder stocks since their May highs, and MoneyShow's Tom Aspray wonders whether associated stocks such as those of these home improvement chains will get hammered next.
Even though the Dow Industrials and the S&P 500 were down less than 0.5% on Wednesday, the drop in stocks this week has gotten quite a bit of attention. For the major averages, the decline has just taken them back to minor support at their still rising 20-day EMAs.
There has been further deterioration in the market internals as the NYSE Advance/Decline has dropped below the late July lows and is now in a short-term downtrend. As I discussed yesterday, the majority of the daily technical studies have not yet turned negative.
The futures are higher this morning, and I would look for a range to develop over the near term but it is also possible that the market is building a top that will eventually result in a deeper correction. Some sectors were hit much harder Wednesday as the Philadelphia Housing Sector (HGX) was down over 2% and most of the homebuilders are down sharply from their spring highs.
Will the two large home improvement stocks, Home Depot, Inc. (HD) and Lowe's Companies Inc. (LOW) now also see heavy selling?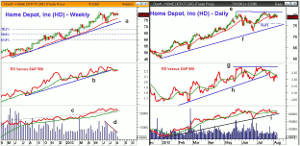 Click to Enlarge
Chart Analysis: Home Depot, Inc. (HD) had an all-time high in May at $81.56 and last week's high was just $80.50. HD dropped 1.8% on Wednesday.
The daily chart of Home Depot, Inc. (HD) shows a potential double top, line e.
NEXT PAGE: What It Means
|pagebreak|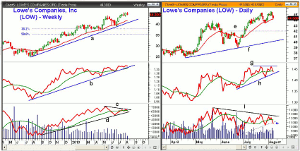 Click to Enlarge
Lowe's Companies, Inc. (LOW) did make a new high Tuesday at $45.46 and now has weekly support at $43.38.
The daily chart of Lowe's Companies, Inc. (LOW) shows a potential short-term double top and dropped back to its WMA on Wednesday.
What it Means: Of these two key home improvement stocks, Lowe's Companies, Inc. (LOW) looks the weakest. Both stocks bottomed out ahead of the homebuilders, and many are wondering when or where the homebuilding stocks will bottom out.
Later today, I will be releasing a review of my outlook for the homebuilding stocks (If you would like to receive a copy of this trading lesson, please sign up here).
How to Profit: No new recommendation.