Is Biotech Ready for a Rest?
12/17/2013 10:40 am EST
Focus: STOCKS
While most analysts' attentions are fully focused on the market's reaction to tomorrow's FOMC meeting, MoneyShow's Tom Aspray zeroes in on the downwards movement of a market sector that might otherwise be overlooked.
Stocks started off the week on a strong note, though, despite the sharply higher close, the market internals did deteriorate as the day progressed, closing about 2-1 positive. The Euro markets had impressive gains Monday, but are quiet in early trading, as are the US futures.
The rally has not yet resolved the patterns of deterioration that I have been noting over the past several weeks. This does not mean that the rally cannot go further over the near term, but it does suggest the rally is likely to ultimately fail. The sentiment is still too bullish and the Put/Call ratios do not reflect a high level of bearishness. The close on Wednesday is likely to resolve the short-term outlook.
The market's next major move is likely to come after the FOMC announcement on Wednesday afternoon, but it is not clear that a decision not to taper will be bullish for stocks, or that a decision to taper is going to necessarily be bearish. I still do not expect the Fed to act because of deflationary fears.
As I pointed out in early December, the health care sector appeared to have completed a short-term top, and the Sector Select Heath Care (XLV) is now down 3.2% from the late November highs. It is likely to take a further decline, to reduce the too high bullish sentiment.
There are now some similar warnings for the high-flying biotechnology sector, as key ETFs like the iShares Nasdaq Biotechnology (IBB), appear to have completed near term tops. It is still up 57.9% for the year, and like heath care, it too should make further new highs in 2014.
So how far could these biotech stocks and the key ETFs decline?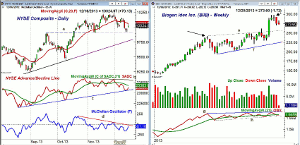 Click to Enlarge
Chart Analysis : The daily chart of the NYSE Composite (NYA) shows Monday's 0.70% gain as it rallied after coming close to the more important support in the 9900 area, line a.
Biogen Idec, Inc. (BIIB) is a $64.6 billion biotech giant, which had a weekly doji high at $298.82 in November.
NEXT PAGE: Two More Biotechs with Warning Signs
|pagebreak|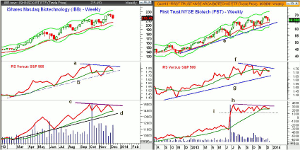 Click to Enlarge
iShares Nasdaq Biotechnology (IBB) has Net Assets of $4.38 billion, with over 8% in Biogen Idec Inc. (BIIB), Gilead Sciences Inc. (GILD), and Celgene Corp. (CELG).
First Trust NYSE Biotech (FBT) has total assets of $859 million and is up 43.8% so far, in 2013. It has just 20 stocks in its portfolio as compared to 118 in IBB.
What it Means: Though the longer term outlook for health care and biotechnology is still positive, they are currently acting toppy.
For example, iShares Nasdaq Biotechnology (IBB) has reached is monthly starc+ band many times over the past nine months, which suggests it is a high-risk buy at current levels.
Therefore, if you have been long this sector for some time, taking some profits now or hedging part of your position is likely to be a good idea.
How to Profit: No new recommendation.