5 Solid ETFs for Trading the Euro
11/08/2011 7:00 am EST
Focus: FOREX
Some have called the euro the single best trading opportunity in today's markets, and these five ETFs allow traders to capitalize on price movements in both directions and even secure leveraged exposure, if desired.
The trends in European markets appear to be harder to read than sanskrit. As news out of Greece and the EU continues to either embolden or terrify the markets, many investors may simply want to run away. However, the Chinese word for crisis is made up of two characters, one meaning danger and the other meaning opportunity.
The volatility of the European markets may leave some traders and investors looking to play their hunches on whether the EU will save the day or whether a total economic meltdown is imminent. For those investors, there are several ETFs that provide excellent opportunities by making bets on the overall movement of the markets.
For those interested in the future of the continent's currency, there are ETFs available for speculation based on currency values. Several such ETFs track the value of the euro in US dollars and move in correspondence to that shift.
The CurrencyShares Euro Trust (FXE) is an ETF that seeks to match the daily move in value of the euro.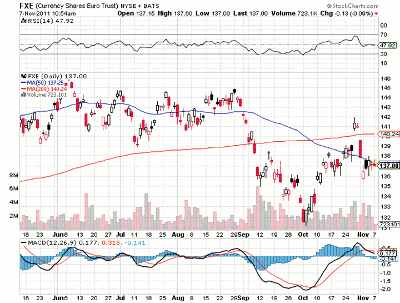 Click to Enlarge
There are also two sets of leveraged ETFs that track the same movements.
The ProShares Ultra Euro (ULE) and ProShares UltraShort Euro (EUO) are both leveraged to double the daily return of the euro. Once again, UltraShort represents the inverse ETF and will move opposite to the value of the euro with double the value.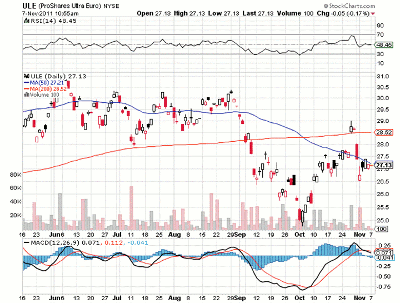 Click to Enlarge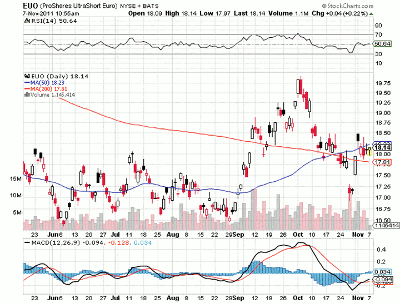 Click to Enlarge
NEXT: 2x Leveraged Long and Short ETFs for Trading the Euro
|pagebreak|
Market Vectors also has 200% long and short leveraged ETNs linked to the euro, the Market Vectors Double Long Euro ETN (URR) and the Market Vectors Double Short Euro ETN (DRR).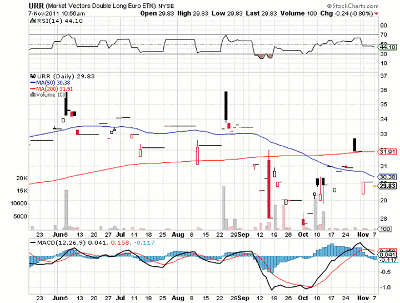 Click to Enlarge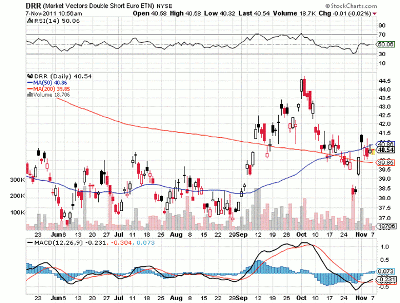 Click to Enlarge
In each case, these ETFs and ETNs provide the savvy investor with vehicles for speculating on the overall trends of the markets in Europe. Anyone looking for an easy way to make long or short bets on the ultimate direction of the European markets should seriously consider using some of these funds as a means to do so.
By Joel Anderson, contributor, Equities.com