Join Raghee Horner LIVE at Back to the Futures!
Join Raghee Horner LIVE at Back to the Futures!
Looking for a Move Higher in the Yen
01/10/2013 9:00 am EST
Focus: FOREX
As the Japanese yen remains under heavy selling pressure in expectation of Prime Minister Shinzo Abe's pre-election promise to loosen monetary policy, forex trader Raghee Horner of InterbankFX details how she's trading select pairs.
Yen strength is about the last thing that traders have seen since the early election was triggered in Japan. It continued as traders priced in the expected, aggressive monetary easing that then-candidate Abe promised, and extended yen weakness as Abe won the election convincingly. But now—having fully priced in the "knowns" of yen weakness—what's next? What would be the next catalyst for another wave of yen selling?
With PM Abe pushing for a 2% inflation target, what would this mean to the overall weakness in the yen? Once the 2% is confirmed, it should pressure the yen into another round of selling as this would give Abe the ability to move forward the with the "unlimitedly" policy easing he won the election upon.
The point of the shift from 1% to 2% would be the help the Japanese economy deal with yen strength and the deflation that comes with it. When the BOJ meets later this month (21st and 22nd), it will be interesting to see if the BOJ tries to separate itself from the intense pressure of Abe and the Liberal Democratic Party and claim some independence. It is widely expected however that Abe will get his 2%. Then the question will inevitably "when…?".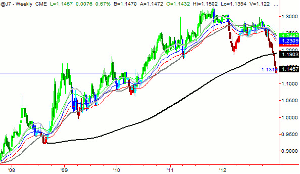 Past performance is not indicative of future results
Click to Enlarge
There is a small window for the yen to strengthen (correct) between now and the 21st. This would allow for trend traders to buy into the pullbacks across longer-term time frames (I'm focusing on the daily) of the AUD/JPY, EUR/JPY, GBP/JPY, and potentially even the CAD/JPY and NZD/JPY. These last two pairs have stronger base currencies and therefore corrections will likely be shallower.
By Raghee Horner, Chief Currency Analyst, InterbankFX