More Wild Rides for the Yen
03/01/2013 9:00 am EST
Focus: FOREX
On Monday, the uncertain outcome of the Italian elections set off sharp moves in all euro crosses, including the yen, even though there was nothing new about the BOJ, notes Mike Kulej of FXMadness.com, but be ready for more turbulence ahead.
Following explosive start of the week, the Japanese yen became relatively quiet in the last two days. "Relatively" is the word here, because both on Tuesday and on Wednesday daily ranges in the EUR/JPY were still above 200 pips. This seems small only when compared to the massive selloff on Monday, well in excess of 600 pips. So far, this is a normal behavior, currencies are settling down, perhaps into a range, before the next main price swing develops. In short, we should expect more elevated volatility, although it could easily take one-two weeks before that happens. Some sort of catalyst will be needed, and if what happened on Monday is a guide, it could come from any direction, not only Japan.

Click to Enlarge
I remain bearish here and at the very least expect a re-test of the recent low at 118.70, if not a much larger selloff. For now, however, the EUR/JPY is rebounding and is not presenting a good shorting entry on the 4H chart. In order to find one, we will probably have to look at smaller time frames, like the 1H or 15M. If the price indeed wants to turn lower, signs of a top should form on them first.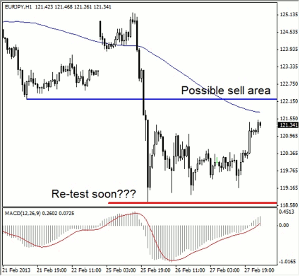 Click to Enlarge
One possible sell zone is the 122 handle. The hourly chart reveals previous support, which might easily become a resistance now. One could simply go short there, especially if a well-defined bearish candlestick pattern emerges. That said, I would prefer to see a topping pattern, something like a head and shoulders or its variation. I will also start watching the 15M chart more even earlier clues. Until then, it is a waiting game.
By Mike Kulej of FXMadness.com