How to Trade Engulfing Bar Patterns
01/25/2016 6:00 am EST
Focus: STRATEGIES
Johnathon Fox, contributor to DailyForex.com, explains how the engulfing bar candle pattern can help traders identify reversals in any market and time frame.
Bullish and bearish engulfing bars are reversal price action signals. This means that engulfing bars can be used to catch potential reversals in the market. Engulfing bars can be played with or against the trend, however, they must always be traded from swing points.
For an engulfing bar to be valid, it must fully engulf at least one previous bar or candle. This includes all the body and the wick. The engulfing bar can engulf more than one bar as long as it completely engulfs the previous bar.
An example of a valid bearish engulfing bar:
An example of a valid bullish engulfing bar:
When looking to trade the engulfing bar, it is important that they form at swing points. The engulfing bar is not a continuation bar, and to play it as such would be dangerous. The best engulfing bars are the bars that stick out like a sore thumb and are very obvious.
No two engulfing bars are made equal. Just because an engulfing bar has the correct formation does not make it automatically tradable. Two main points need to be taken into consideration:
Is the engulfing bar with or against the trend?
Is the engulfing bar at a key level?
Like nearly all price action trading signals, trading with the obvious trend is the best option when available. That being said, engulfing bars are reversals and quite often will form against the trend, signaling a possible reversal of momentum.
To increase the chances of the engulfing bar working out favorably, it is crucial that trades be taken from important levels. When matched with key levels in the market, the engulfing bar can be a reliable and powerful price action signal.
NEXT: See More Examples of This Pattern in Action
|pagebreak|
Example of large and obvious engulfing bars: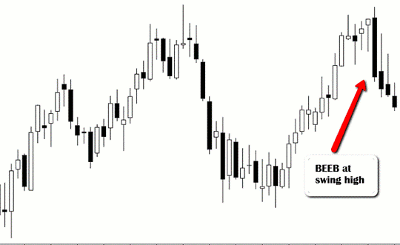 Click to Enlarge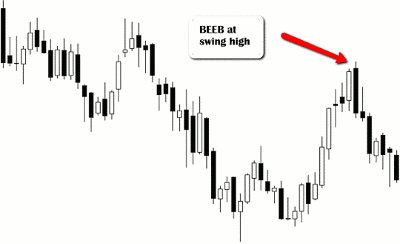 Click to Enlarge
Once the trader has worked out how to identify and enter the engulfing bar, it is then vital they follow up with education in the following areas:
Where to trade engulfing bars from in the market
How to manage the stops on engulfing bars
What are the best engulfing bars to trade?
How to enter engulfing bar trades
How to manage the engulfing bar for maximum profit and minimum risk
When to take profits
When not to take an engulfing bar set-up
The best types of markets in which to trade engulfing bars
Armed with the correct knowledge of how to manage engulfing bars correctly, traders will have a very powerful price action signal in their trading tool box.
See also: A Candle Pattern to Add to Your Arsenal
By Johnathon Fox, contributor, Daily Forex
Johnathon Fox is a professional forex and futures trader who also tutors and mentors aspiring traders worldwide. Johnathon teaches a very useful method of price action trading and has a knack for helping traders become consistently profitable. Learn more at Forex School Online.