How Apple Secretly Built a Bigger Moat
09/19/2012 2:00 am EST
Focus: STOCKS
The iPhone 5 maker spent billions to upgrade a key part of its business that gave it lots of grief in the past, and the fruits of that expense are showing up now, writes MoneyShow's Jim Jubak, also of Jubak's Picks.
I'm going to up my target price on Apple (AAPL) today. When I last wrote about Apple on September 14, I pointedly didn't change my then $650 a share target price. But today, I'm upping the target to $760.
What's changed? Well, I've certainly been impressed with the way that Apple's new iPhone 5 has jumped off the shelves (well, actually off the preorder list, since the phone doesn't actually go on sale until September 21.)
More than 2 million customers have placed orders for the iPhone 5 in the first 24 hours. That's double the preorders placed in a similar time period last year for the iPhone 4S.
But that's not the reason.
I've certainly noticed that Wall Street analysts have been very busy increasing their projections for sales to the end of the quarter. Yesterday, for example, Canaccord Genuity raised its sales forecast to 50 million iPhone 5 units by the end of 2012.
But that's not the reason either.
It's the story that I haven't read—so far—that has impressed me. Right now, it looks like Apple is going to be able to meet this outpouring of demand without a huge disruption.
That's quite frankly amazing for a technology sector where product companies like Apple do very little if any of their own manufacturing, and where parts suppliers and product assemblers have a history of running so close to the bone that all it takes is a bit of unexpected demand to throw a product introduction into a chaos of missed orders, supply shortages—and missed sales.
Apple has minimized its own exposure to this problem by investing a big hunk of its $7.1 billion in capital spending for 2012 in enhancing its supply chain. "Enhancing its supply chain" is kind of vague, I know, so here's how it works for Apple:
Apple approaches the company that it has picked to manufacture some piece of the iPhone and says, "Hey, to be one of our key suppliers, we want you to buy new equipment to make components for us."
"We'll even buy that equipment for you to install in your own factories and to operate with your own people."
"All you have to do is give us a guarantee that you'll meet our demands for your components on our schedule. And that you'll share any cost savings from this new equipment with us by cutting the price of the components you make for us."
Not surprisingly, very few of the companies that make something critical for the iPhone 5 say no to a deal like this. By funding the cost of new equipment itself, Apple takes much of the risk out of the component maker's business. By giving the component maker a huge advance order to be made on the best new equipment that that Apple can find, Apple gives component makers a chance in increase their own margins.
And by investing at critical points all up and down the supply chain, Apple decreases the odds that a component maker will wind up sitting on inventory because some other iPhone 5component maker wasn't able to meet its schedules.
But the advantages to Apple's supply chain investing strategy don't stop there. (By the way, before Tim Cook took over as CEO from Steve Jobs, he was in charge of operations, including the management of the company's supply chain.)
Remember those savings that the component makers get from the new equipment and the guaranteed high-volume orders? Well, some of that gets passed along to Apple. Morgan Stanley analyst Katy Huberty estimates that this could translate into cost savings of 15% to 20% a year.
That would, of course, drop down to the bottom line for a product that already accounts for 70% of Apple's profit. And that added margin gives Apple a lot of room to negotiate any gradual decline in the price of its iPhones.
And that's why, I'm raising my target price on Apple, a member of my Jubak's Picks portfolio, to $760 a share by May 2013.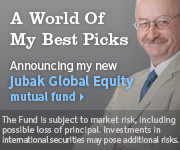 Full disclosure: I don't own shares of any of the companies mentioned in this post in my personal portfolio. The mutual fund I manage, Jubak Global Equity Fund, may or may not now own positions in any stock mentioned in this post. The fund did own shares of Apple as of the end of June. For a full list of the stocks in the fund as of the end of June, see the fund's portfolio here.