Ratio Pairs Trade Has Sky-High Reward
12/08/2011 9:00 am EST
Focus: STOCKS
Greg Harmon of Dragonfly Capital suggests a potentially lucrative ratio pairs trade centered around stocks in the pawn industry.
I recently wrote about confusion in the charts in the payday lender space. Often, when there is confusion, there is an opportunity to take advantage of the relative strength of stocks in a sector using a pairs trade.
Let's use this to take a look at two of the other stocks in this space, World Acceptance Corp (WRLD) relative to EZCorp (EZPW).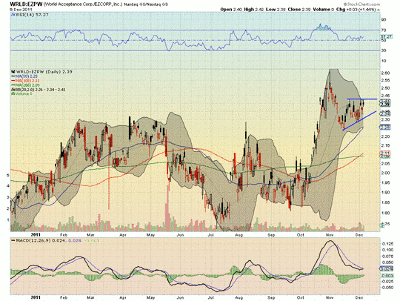 Click to Enlarge
The ratio chart above depicts the relationship between WRLD and EZPW. There is a lot of interest in this chart. First it is building an ascending triangle with a top rail at a ratio of 2.42 after falling from the peak at 2.60 recently. Next, the Bollinger bands are tightening, foretelling a move in the near future.
Third, the Relative Strength Index (RSI) has held bullish and above the mid line as the ratio fell. Next the Moving Average Convergence Divergence (MACD) indicator is moving towards a bullish positive cross. With the simple moving averages (SMAs) sloping higher, the bias is for this to break the triangle to the upside and establish a target of 2.59 with resistance at 2.52 along the way.
But the MACD indicator is flattening as it approaches zero and may glance off. And there have been topping tails on the last few candles as it hits the top rail. A move lower and through the bottom rail at 2.34 triggers a target of 2.15 with support at 2.22 along the way.
From a pairs trade perspective, this can be played two ways:
On a move of the ratio over 2.42, buy five WRLD shares for every sell of 12 shares of EZPW with a stop at 2.38 and a target of 2.59. This risks $2.00 to make $28, or a reward-to-risk ratio of 14:1.
On a move of the ratio under 2.34, buy 12 shares of EZPW and sell five shares of WRLD using 2.38 as a stop and looking for a target of 2.15. This risks about $2 to make $30.
These are not exact, as the ratio is still a bit away from this level.
By Greg Harmon of Dragonfly Capital