Box IPO: Another Player in Cloud Storage
01/27/2015 7:00 am EST
Focus: TECHNOLOGY
Chris Lau, of Kapitall.com, highlights how the cloud space just got more crowded last Friday when this cloud-based storage technology firm finally completed its long-anticipated IPO and what this may mean for traders and investors moving forward.
The cloud just got more crowded with Box's IPO. But is a stock automatically hot because its sector is?
Here we go again. When Box (BOX) completed its long-awaited IPO on Friday, January 23, it raised around $187 million. The IPO comes at a time when cloud-based storage technology is hot, but it's also a very crowded and competitive field. With so many big companies already in this market, Box might not stand a chance.
Box is issuing 12.5 million shares on the public market. The 10-year-old company presents some impressive numbers in its filing. There are 32 million registered users and four billion content interactions every quarter (as of October 31, 2014). On top of that, 44,000 organizations are paying customers.
The stock moved from around 10 times billings to 16 times billings on Friday, illustrating investors' confidence that the firm will grow billings significantly. According to its filing, Box's billings were $174 million in 2014. Revenue growth is solid as well, increasing from $21.1 million in 2011 to $124.2 million in 2014. Yet, losses also mounted in the same period. The company lost $9.53 per share in 2011 and $11.89 per share three years later.
Clouds, Clouds Everywhere
Dropbox is a popular alternative to Box. Other options include Amazon's (AMZN) web services, Microsoft's (MSFT) free storage, and Google's (GOOG) complimentary Google Drive. Valuation is also more reasonable for the latter two companies. Take Microsoft; the firm currently trades at a price of profit of just 16: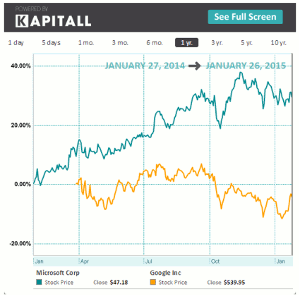 Click to Enlarge
Apple's (AAPL) iCloud is also a competing service, at least at the individual level.
Business Focus
Box is targeting companies instead of individuals. This may alleviate the competition it faces for now, but the growing losses are worrisome.
Bottomline
Until Box shows that its growing market share at the cost of mounting losses is worthwhile, investors may want to avoid speculating on the company.
Click on the chart to view data over time.

Click to Enlarge
1. Apple, Inc. (AAPL) (Earnings, Analysts, Financials): Designs, manufactures, and markets personal computers, mobile communication, and media devices, and portable digital music players, as well as sells related software, services, peripherals, networking solutions, and third-party digital content and applications worldwide. Market cap at $666.01, most recent closing price at $112.98.
2. Google, Inc. (GOOG) (Earnings, Analysts, Financials): Designs and offers various products and services in key areas, including search, advertising, operating systems and platforms, enterprise and hardware products. Market cap at $362.42B, most recent closing price at $539.95.
3. Microsoft Corp. (MSFT) (Earnings, Analysts, Financials): Develops, licenses, and supports a range of software products and services for various computing devices worldwide. Market cap at $383.29B, most recent closing price at $47.18.
By Chris Lau of Kapitall.com