A Forex Trade for Down Under
03/24/2011 9:17 am EST
Focus: FOREX
After a sizable rally and an almost equal retracement, the AUD/NZD currency pair is set up for a swing trading opportunity. Here's how one trader will be playing it.
By Christopher Vecchio
After gaining over 900 pips from the end of November to the end of December, the Australian dollar/ New Zealand dollar currency pair (AUD/NZD) nearly retraced all of its gains, giving back over 700 pips headed into the last week of January.
As risk appetite intensified over the next few weeks, there was flock to aussie crosses (among other risky assets), hence sending the AUD/NZD pair higher. The AUD/NZD pair itself rallied approximately 1000 pips from the second week of January through the first week of March, particularly following the earthquake in Christchurch, New Zealand.
This move coincided with the longer-term ascending channel trend, in place since July. Now, after the pair completed its corrective wave within its ascending channel dating from the second week of January to the present and touching its range bottom, it appears there is a swing trading opportunity to the upside over the coming hours and days.
Levels to Watch:
Range top: 1.4005 (trend)
Range bottom: 1.3480 (trend)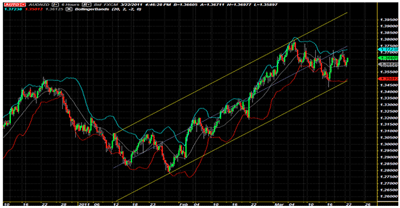 Click to Enlarge
The AUD/NZD pair has seen wide swings over the past eight months, trading mostly to the upside and gaining as much as 1700 pips during this time frame, though the retracements have been over 500-pip swings themselves.
After completing its most recent 300-plus-pip corrective wave, there is room for the AUD/NZD pair to gain within its channel. The next leg up has stalled somewhat, but our bias remains to the upside.
On the daily chart, the relative strength index (RSI) stalled its decline, and has since rebounded back towards 60. This coincides with the Moving Average Convergence Divergence (MACD) histogram tailing off of its bearish divergence, with the differential narrowing—on the six-hour chart, this differential has closed. Momentum remains to the upside, as evidenced by the buy signal issued by the slow stochastic oscillator with the %K trending higher than the %D at 56 and 45, respectively.
Here is a suggested swing trading strategy:
Long: Place an entry at 1.3700 (below the Bollinger band upper envelope, firmly above the 20-period simple moving average (SMA))


Stop: Set the stop to 1.3600 (100-pip risk)


Target: The first target is 1.3825 (move up stop to 1.3775), second target is 1.4005 (range top)


Time frame: Three to seven days
As with all forex trading, news events can change trend quickly, so be sure to only take on the amount of risk you are comfortable with in your account.
By Christopher Vecchio of DailyFX.com