Friday's Non-Farm Payrolls in Focus
03/07/2012 6:00 am EST
Focus: FOREX
Walker England of DailyFX.com explains that the previous non-farm payrolls (NFP) report caused a wide EUR/USD price swing and helps FX traders prepare if another such move takes place this Friday.
The non-farm payrolls (NFP) report is one of the most watched and highly anticipated reports on the US economic calendar. Non-farm payrolls will be abbreviated within as NFP and is released on a monthly basis to give a timely glimpse into employment in the United States. These numbers are released by the US Bureau of Labor Statistics to assist policymakers with decisions regarding monetary policy.
NFP looks specifically at net changes in employment as jobs are created or subtracted in an economy in any given month. The term "non-farm" is used since farm/agricultural workers are not included in the employment count.
The decision to not include agricultural jobs lies in these jobs being largely seasonal, and that could possibly produce small, temporary shifts in labor reporting. For this reason, certain government employees, private household employees, and non-profit organizations are also not included in the count.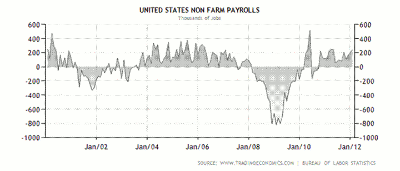 Click to Enlarge
As the most comprehensive employment number released in the United States, the results have been known to produce volatility in the forex market. The next NFP announcement is set to take place this Friday, March 9 at 8:30 am New York time (ET), and it makes sense as a trader to be prepared for unexpected volatility.
Below we can see a five-minute chart of the EUR/USD. This snapshot is taken after the February 3 NFP announcement.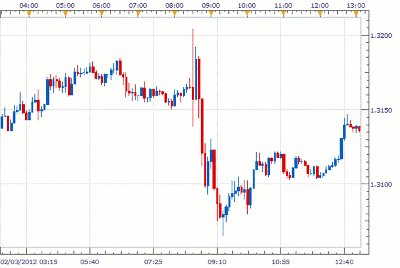 Click to Enlarge
Last month it was reported that 243,000 new jobs were added to the economy, which was considerably more than the 150,000 predicted. This caused the EUR/USD to spike 40 pips and print a daily high at 1.3204. Less than an hour later, the EUR/USD had moved 139 pips lower to 1.3065.
With expectations of 210,000 new jobs being added to the economy for this report, traders need to be ready if the numbers do not come out in line with expectations. Traditionally, there are many ways of trading the news, including breakouts, news fades, and trading market dips.
See also: Forex Strategies: The Breakout Trade and FX Strategy: Buy the Dip, Sell the Rally.
Trading NFP can be an exciting and often profitable pursuit for traders willing to enter into a volatile market. Regardless of the strategy taken, it is always important to keep an eye on risk/reward levels while minimizing the use of leverage in case volatility spikes against your trade.
By Walker England, trading instructor, DailyFX.com
For a comprehensive look at trading NFP, join me live inside the DailyFX Plus Live Classroom at 9:00 am Friday morning.