Trading the Price Action Reversal Signals
Focus: FOREX
Forex trader Johnathon Fox, contributor, DailyForex.com, explains the mechanics of two very simple and easy to identify price action trading signals.
Today's quick article is going to cover two very simple price action reversal signals that any trader can learn and start spotting today. These two signals are not complicated and even the newest of traders will be able to start spotting them all over their charts.
Pin Bar Reversal
I have covered in previous articles exactly what goes into making a Pin Bar a valid signal. Basically a Pin Bar is a candle that has a small body and a large nose that is rejecting either higher or lower prices. The thinking behind the Pin Bar is quite simple; Price has moved higher or lower before a wave of orders snaps price back in the other direction. See the chart below for what a Pin Bar looks like: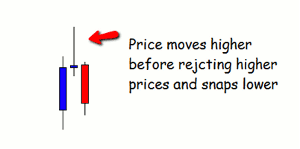 Click to Enlarge
Like all price action signals, not all Pin Bars are created equal. There are certain factors that go into making one Pin Bar better than another.